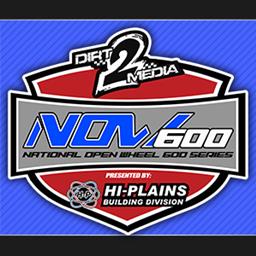 11/5/2023
NOW600 National Micros
---
NOW600 Nationals Triumphs Belong To Flud, Woods, Nunley, And Budnik At Creek County Speedway!
(Image Credit: Richard Bales)
Bryan Hulbert – SAPULPA, Okla. (November 4, 2023) Handing out over $50,000 during the NOW600 Nationals at Creek County Speedway over two nights of racing, Saturday's championship event for the Dirt2Media National Open Wheel 600 Series presented by Hi-Plains Building Division saw wins go to Frank Flud in A-Class, Jett Nunley in Restricted, Brant Woods in Non-Wing, and Dylan Budnik in Dwarf Cars.
A $3,000 check for Frank Flud, the Hyper Racing No. 81 was the third driver to lead the A-Class feature event. Finding the line coming in on Lap 10, Flud rolled to second by Lap 13 and began his pursuit of Brant Woods. Rolling top-shelf as Flud hustled the bottom, the pass for the lead came on Lap 17, where Flud would steadily pull away to a 3.513-second advantage at the finish for career win No. 73 in NOW600 A-Class competition.
Braxton Weger, who led the opening lap, slipped to third, but fought back to finish second. Cole Roberts crossed third, and Colton Robinson rolled 13th to fourth. Brant Woods would end up fifth.
Adding his name to the list of winners, Brant Woods collected $3,000 with his first NOW600 Stock Non-Wing victory. Winner in A-Class on Friday, Woods chased the opening 11 laps as Colton Robinson took off with the lead at the start of the 30-lap event. Rolling to second on Lap 6 as Frank Flud raced by, the No. 81 was stalked by Woods, who had moved to second the following revolution.
Overtaking on Lap 12, Woods was ultimately chased to the finish by Johnny Boland, who rolled seventh to second. Frank Flud slipped to third, with Matt Carr fourth. California's Ryan Winter completed the top five.
Sweeping the weekend for the $2,000 score in Restricted, Jett Nunley ran down Cale Lagroon and took over the point on Lap 15. Rolling away by 1.465-seconds, Nunley's win was No. 26 in Restricted competition. Carson Bolden took second with four laps to go, moving Lagroon to third. Braxton Weger and Mason Nester made up the top five.
Racing to the lead on Lap 2, Dylan Budnik secured his first win of the season in Oklahoma, and sixth overall. Fending off several restart challenges for the win, Budnik finally pulled away by 0.955-seconds over Marek Pipe. Up to third, back to fifth, and finally back to third, Dillon Coyne claimed the bronze. Chris Ochoa and Chandler Foltz completed the top five.
Saturday's finale of the NOW600 Nationals had 116 entries on hand.
The 2023 season for the Dirt2Media National Open Wheel 600 Series presented by Hi-Plains Building Division, wraps up the 2023 season in Texas at Gulf Coast Speedway on Friday, November 10, and Saturday, November 11.
The 2023 season marks the 11th year of competition for the National Open Wheel 600 Series. Anchored by the Dirt2Media NOW600 National Championship, the NOW600 Series comprises several regional tours and sanctioned racetracks. The NOW600 National Championship features three divisions of 600cc micro sprints at each event: Stock Non-Wing, Winged A-Class, and Restricted 'A' Class.
To keep up on everything happening with the National Open Wheel 600 Series, from the National Tour to Regional and Weekly racing lineups, log onto http://www.now600series.com and make sure to follow the tour on Facebook and Twitter (@NOW600Series).
Race Results:
Dirt2Media NOW600 Series
Creek County Speedway (Sapulpa, Okla.)
Saturday, November 4, 2023
NOW600 NON-WING MICROS
Hi Plains Building Division A-Main (30 Laps): 1. 83-Brant Woods[3]; 2. 1V-Johnny Boland[7]; 3. 81-Frank Flud[5]; 4. 93-Matt Carr[2]; 5. 80-Ryan Winter[4]; 6. 21-Keegan Osantowski[8]; 7. 3Z-Trey Zorn[12]; 8. 14H-Robbie Smith[6]; 9. 38-Jackson Kounkel[9]; 10. 5G-Landon Graham[15]; 11. 35-Gaige Weldon[19]; 12. 51K-Kaimron Schoonover[10]; 13. 6-Blake Parmley[20]; 14. 34-Colton Robinson[1]; 15. 310-Chris Townsend[18]; 16. 938-Bradley Fezard[11]; 17. 3-Cole Roberts[14]; 18. 78C-Chance Cody[13]; 19. 83W-Jim Woods[17]; 20. 5-Ryder McCutcheon[16]
Hoss Media B-Main 1 (12 Laps): 1. 5G-Landon Graham[6]; 2. 5-Ryder McCutcheon[2]; 3. 83W-Jim Woods[3]; 4. 310-Chris Townsend[4]; 5. 35-Gaige Weldon[7]; 6. 6-Blake Parmley[10]; 7. 29-Trevor Cohn[11]; 8. 11-Jaden Alexander[12]; 9. 128-Tyler Cook[13]; 10. 27KW-Kaden Weger[8]; 11. 94-Austin Crowder[9]; 12. 7C-Phillip Cordova[14]; 13. (DNS) 24U-Tristan Ullstrom; 14. (DNS) 43-Kaden Bennett
Milestone Home Service Co Heat 1 (8 Laps): 1. 83-Brant Woods[4]; 2. 93-Matt Carr[7]; 3. 38-Jackson Kounkel[3]; 4. 3-Cole Roberts[6]; 5. 27KW-Kaden Weger[1]; 6. 6-Blake Parmley[5]; 7. 7C-Phillip Cordova[2]
Milestone Home Service Co Heat 2 (8 Laps): 1. 14H-Robbie Smith[2]; 2. 81-Frank Flud[4]; 3. 51K-Kaimron Schoonover[3]; 4. 5-Ryder McCutcheon[1]; 5. 310-Chris Townsend[5]; 6. 94-Austin Crowder[6]; 7. 29-Trevor Cohn[7]
Milestone Home Service Co Heat 3 (8 Laps): 1. 1V-Johnny Boland[1]; 2. 34-Colton Robinson[4]; 3. 3Z-Trey Zorn[2]; 4. 78C-Chance Cody[6]; 5. 83W-Jim Woods[5]; 6. 5G-Landon Graham[3]; 7. 11-Jaden Alexander[7]
Milestone Home Service Co Heat 4 (8 Laps): 1. 80-Ryan Winter[4]; 2. 21-Keegan Osantowski[2]; 3. 938-Bradley Fezard[3]; 4. 24U-Tristan Ullstrom[6]; 5. 35-Gaige Weldon[1]; 6. 43-Kaden Bennett[7]; 7. 128-Tyler Cook[5]
Performance Electronics Qualifying 1 (3 Laps): 1. 83-Brant Woods, 14.444[4]; 2. 38-Jackson Kounkel, 14.525[2]; 3. 7C-Phillip Cordova, 14.708[6]; 4. 27KW-Kaden Weger, 14.920[5]; 5. 6-Blake Parmley, 14.921[3]; 6. 3-Cole Roberts, 14.925[1]; 7. 93-Matt Carr, 14.925[7]
Performance Electronics Qualifying 2 (3 Laps): 1. 81-Frank Flud, 14.450[5]; 2. 51K-Kaimron Schoonover, 14.569[3]; 3. 14H-Robbie Smith, 14.605[4]; 4. 5-Ryder McCutcheon, 14.615[6]; 5. 310-Chris Townsend, 14.654[2]; 6. 94-Austin Crowder, 14.839[7]; 7. 29-Trevor Cohn, 14.900[1]
Performance Electronics Qualifying 3 (3 Laps): 1. 34-Colton Robinson, 14.420[4]; 2. 5G-Landon Graham, 14.567[6]; 3. 3Z-Trey Zorn, 14.598[2]; 4. 1V-Johnny Boland, 14.602[3]; 5. 83W-Jim Woods, 14.627[7]; 6. 78C-Chance Cody, 14.762[5]; 7. 11-Jaden Alexander, 15.104[1]
Performance Electronics Qualifying 4 (3 Laps): 1. 80-Ryan Winter, 14.200[1]; 2. 938-Bradley Fezard, 14.658[5]; 3. 21-Keegan Osantowski, 14.676[2]; 4. 35-Gaige Weldon, 14.749[7]; 5. 128-Tyler Cook, 14.983[6]; 6. 24U-Tristan Ullstrom, 15.001[3]; 7. 43-Kaden Bennett, 15.054[4]
NOW600 A-CLASS MICROS
Hi Plains Building Division A-Main (30 Laps): 1. 81-Frank Flud[4]; 2. 31BW-Braxton Weger[1]; 3. 3-Cole Roberts[2]; 4. 34-Colton Robinson[13]; 5. 83-Brant Woods[6]; 6. 1V-Johnny Boland[5]; 7. 3Z-Trey Zorn[10]; 8. 38-Jackson Kounkel[11]; 9. 33-Jett Nunley[9]; 10. 93-Matt Carr[14]; 11. 5-Ryder McCutcheon[20]; 12. 24C-Cale Lagroon[3]; 13. 9A-Hunter Hanson[19]; 14. 78C-Chance Cody[18]; 15. 11D-Dominic White[7]; 16. 14-Landon Muehlberger[17]; 17. B2-Carson Bolden[16]; 18. 27KW-Kaden Weger[12]; 19. 83W-Jim Woods[8]; 20. 14H-Harley Hollan[15]
Hoss Media B-Main (12 Laps): 1. 14H-Harley Hollan[1]; 2. B2-Carson Bolden[3]; 3. 14-Landon Muehlberger[8]; 4. 78C-Chance Cody[4]; 5. 9A-Hunter Hanson[9]; 6. 5-Ryder McCutcheon[15]; 7. 35-Gaige Weldon[6]; 8. 5S-Zak Swanson[2]; 9. 11-Jaden Alexander[10]; 10. 938-Bradley Fezard[11]; 11. 9L-Degan Lelsz[14]; 12. 21-Keegan Osantowski[16]; 13. 82-Robert Randolph[17]; 14. 5G-Landon Graham[19]; 15. 22X-Gerald Ray[7]; 16. 77A-Ayla Jones[18]; 17. 24U-Tristan Ullstrom[12]; 18. 22-Hank Soares[5]; 19. 59-Evan Semerad[13]; 20. (DNS) 43-Kaden Bennett
Milestone Home Service Co Heat 1 (8 Laps): 1. 83-Brant Woods[4]; 2. 3Z-Trey Zorn[1]; 3. 34-Colton Robinson[2]; 4. 14H-Harley Hollan[3]; 5. 78C-Chance Cody[6]; 6. 22-Hank Soares[9]; 7. 59-Evan Semerad[5]; 8. 5-Ryder McCutcheon[8]; 9. 5G-Landon Graham[7]
Milestone Home Service Co Heat 2 (8 Laps): 1. 1V-Johnny Boland[4]; 2. 38-Jackson Kounkel[1]; 3. 33-Jett Nunley[3]; 4. 93-Matt Carr[6]; 5. 22X-Gerald Ray[5]; 6. 11-Jaden Alexander[2]; 7. 938-Bradley Fezard[8]; 8. 21-Keegan Osantowski[7]; 9. 77A-Ayla Jones[9]
Milestone Home Service Co Heat 3 (8 Laps): 1. 24C-Cale Lagroon[2]; 2. 31BW-Braxton Weger[5]; 3. 83W-Jim Woods[3]; 4. 27KW-Kaden Weger[4]; 5. 5S-Zak Swanson[7]; 6. 9A-Hunter Hanson[6]; 7. 24U-Tristan Ullstrom[8]; 8. 82-Robert Randolph[1]
Milestone Home Service Co Heat 4 (8 Laps): 1. 3-Cole Roberts[2]; 2. 81-Frank Flud[4]; 3. 11D-Dominic White[6]; 4. 35-Gaige Weldon[1]; 5. B2-Carson Bolden[3]; 6. 14-Landon Muehlberger[7]; 7. 9L-Degan Lelsz[5]; 8. (DNS) 43-Kaden Bennett
Performance Electronics Qualifying 1 (3 Laps): 1. 83-Brant Woods, 13.019[5]; 2. 14H-Harley Hollan, 13.169[2]; 3. 34-Colton Robinson, 13.170[7]; 4. 3Z-Trey Zorn, 13.178[6]; 5. 59-Evan Semerad, 13.379[8]; 6. 78C-Chance Cody, 13.529[4]; 7. 5G-Landon Graham, 13.842[9]; 8. 5-Ryder McCutcheon, 13.842[1]; 9. 22-Hank Soares, 13.842[3]
Performance Electronics Qualifying 2 (3 Laps): 1. 1V-Johnny Boland, 13.207[9]; 2. 33-Jett Nunley, 13.253[6]; 3. 11-Jaden Alexander, 13.312[5]; 4. 38-Jackson Kounkel, 13.338[4]; 5. 22X-Gerald Ray, 13.404[2]; 6. 93-Matt Carr, 13.418[7]; 7. 21-Keegan Osantowski, 13.438[1]; 8. 938-Bradley Fezard, 13.459[8]; 9. 77A-Ayla Jones, 15.343[3]
Performance Electronics Qualifying 3 (3 Laps): 1. 27KW-Kaden Weger, 13.133[5]; 2. 83W-Jim Woods, 13.226[6]; 3. 24C-Cale Lagroon, 13.241[3]; 4. 82-Robert Randolph, 13.391[8]; 5. 31BW-Braxton Weger, 13.453[1]; 6. 9A-Hunter Hanson, 13.481[2]; 7. 5S-Zak Swanson, 13.652[7]; 8. 24U-Tristan Ullstrom, 16.150[4]
Performance Electronics Qualifying 4 (3 Laps): 1. 81-Frank Flud, 13.104[6]; 2. B2-Carson Bolden, 13.178[7]; 3. 3-Cole Roberts, 13.369[3]; 4. 35-Gaige Weldon, 13.373[4]; 5. 9L-Degan Lelsz, 13.501[1]; 6. 11D-Dominic White, 13.529[5]; 7. 14-Landon Muehlberger, 13.583[8]; 8. 43-Kaden Bennett, 14.212[2]
NOW600 RESTRICTED MICROS
Hi Plains Building Division A-Main (30 Laps): 1. 33-Jett Nunley[4]; 2. B2-Carson Bolden[3]; 3. 24C-Cale Lagroon[1]; 4. 31BW-Braxton Weger[8]; 5. 23-Mason Nester[5]; 6. 97-Cash Lacombe[7]; 7. 83-Dawson Woods[2]; 8. 22-Hank Soares[11]; 9. 88K-Bryce Kujath[17]; 10. 11A-Jadi Jo Andrasek[18]; 11. 11-Mattix McBride[10]; 12. 06-Marek Pipe[20]; 13. 4-Jude Allgayer[15]; 14. GH7-Garyn Howard[6]; 15. 9-Mavrick Page[16]; 16. 11AZ-Annalesia Miller[12]; 17. 99L-Kaiden Lane[13]; 18. 73-Chase McDougal[14]; 19. 73F-Ty Fulghum[9]; 20. 29A-Colton Andrasek[19]
Hoss Media B-Main 1 (12 Laps): 1. 4-Jude Allgayer[1]; 2. 9-Mavrick Page[3]; 3. 88K-Bryce Kujath[4]; 4. 11A-Jadi Jo Andrasek[2]; 5. 29A-Colton Andrasek[5]; 6. 06-Marek Pipe[9]; 7. 7G-Ollie Geiger[6]; 8. 14-Jacob Moseley[10]; 9. 28-Kyson Bolden[8]; 10. 28L-Jensen Long[7]
Milestone Home Service Co Heat 1 (8 Laps): 1. 33-Jett Nunley[3]; 2. 97-Cash Lacombe[2]; 3. 23-Mason Nester[4]; 4. 99L-Kaiden Lane[1]; 5. 11AZ-Annalesia Miller[6]; 6. 9-Mavrick Page[5]; 7. 29A-Colton Andrasek[7]; 8. 14-Jacob Moseley[8]
Milestone Home Service Co Heat 2 (8 Laps): 1. 24C-Cale Lagroon[2]; 2. B2-Carson Bolden[4]; 3. 22-Hank Soares[1]; 4. 11-Mattix McBride[3]; 5. 73-Chase McDougal[5]; 6. 11A-Jadi Jo Andrasek[6]; 7. 88K-Bryce Kujath[7]; 8. 28L-Jensen Long[8]
Milestone Home Service Co Heat 3 (8 Laps): 1. GH7-Garyn Howard[1]; 2. 83-Dawson Woods[4]; 3. 31BW-Braxton Weger[3]; 4. 73F-Ty Fulghum[7]; 5. 4-Jude Allgayer[2]; 6. 06-Marek Pipe[8]; 7. 7G-Ollie Geiger[5]; 8. 28-Kyson Bolden[6]
Performance Electronics Qualifying 1 (3 Laps): 1. 23-Mason Nester, 13.687[2]; 2. 33-Jett Nunley, 13.711[1]; 3. 97-Cash Lacombe, 13.808[3]; 4. 99L-Kaiden Lane, 13.930[4]; 5. 9-Mavrick Page, 14.317[5]; 6. 11AZ-Annalesia Miller, 14.397[6]; 7. 29A-Colton Andrasek, 14.429[8]; 8. (DNS) 14-Jacob Moseley
Performance Electronics Qualifying 2 (3 Laps): 1. B2-Carson Bolden, 13.720[6]; 2. 11-Mattix McBride, 14.063[7]; 3. 24C-Cale Lagroon, 14.093[5]; 4. 22-Hank Soares, 14.177[8]; 5. 73-Chase McDougal, 14.188[1]; 6. 11A-Jadi Jo Andrasek, 14.269[3]; 7. 88K-Bryce Kujath, 14.392[2]; 8. 28L-Jensen Long, 15.818[4]
Performance Electronics Qualifying 3 (3 Laps): 1. 83-Dawson Woods, 13.920[5]; 2. 31BW-Braxton Weger, 14.065[1]; 3. 4-Jude Allgayer, 14.110[7]; 4. GH7-Garyn Howard, 14.117[3]; 5. 7G-Ollie Geiger, 14.287[6]; 6. 28-Kyson Bolden, 15.181[2]; 7. 73F-Ty Fulghum[8]; 8. (DNS) 06-Marek Pipe
NOW600 DWARF CARS
Hi Plains Building Division A-Main (25 Laps): 1. 25-Dylan Budnik[2]; 2. 06-Marek Pipe[1]; 3. 12T-Dillon Coyne[8]; 4. 44M-Chris Ochoa[3]; 5. F4-Chandler Foltz[12]; 6. 42P-Ryan Stoy[15]; 7. 1K-Kaegen Moore[9]; 8. 22-Justin Foltz[17]; 9. 81D-Jerry Burford[7]; 10. 27P-Jeff Patterson[4]; 11. 12N-Keith Lischer[6]; 12. 23-Robbie Russell[19]; 13. 93X-Waylon Weaver[20]; 14. 35-Kevin Cummings[16]; 15. 22C-Cauy Moore[18]; 16. 1-Darren Hull[13]; 17. 08-Danielle Long[14]; 18. 10-Danny Davis[5]; 19. 12-Rodger Moore[10]; 20. 17-Chance Hull[11]
Hoss Media B-Main 1 (12 Laps): 1. 42P-Ryan Stoy[7]; 2. 35-Kevin Cummings[3]; 3. 22-Justin Foltz[4]; 4. 22C-Cauy Moore[2]; 5. 23-Robbie Russell[12]; 6. 93X-Waylon Weaver[5]; 7. 121-Landon Falkenberg[1]; 8. 75-Paul York[11]; 9. 4M-Duane Burford[14]; 10. 00-Jeff Robertson[13]; 11. 92X-Michael Payton[9]; 12. 71-Mason Mach[8]; 13. 39-Rex Johnson[6]; 14. (DNS) 97-Amanda Cummings; 15. (DNS) 00X-Blaze Payne; 16. (DNS) 03-Ryan Winter; 17. (DNS) 30-Billy Groff
Performance Electronics Heat 1 (8 Laps): 1. 17-Chance Hull[5]; 2. 12T-Dillon Coyne[3]; 3. 25-Dylan Budnik[7]; 4. 22C-Cauy Moore[2]; 5. 93X-Waylon Weaver[1]; 6. 42P-Ryan Stoy[4]; 7. 23-Robbie Russell[6]; 8. (DNS) 00X-Blaze Payne
Performance Electronics Heat 2 (8 Laps): 1. 81D-Jerry Burford[1]; 2. 1K-Kaegen Moore[3]; 3. 12-Rodger Moore[5]; 4. 1-Darren Hull[6]; 5. 22-Justin Foltz[2]; 6. 71-Mason Mach[4]; 7. 97-Amanda Cummings[7]; 8. (DNS) 03-Ryan Winter
Performance Electronics Heat 3 (8 Laps): 1. 27P-Jeff Patterson[2]; 2. 10-Danny Davis[4]; 3. 44M-Chris Ochoa[7]; 4. 08-Danielle Long[5]; 5. 35-Kevin Cummings[3]; 6. 75-Paul York[1]; 7. 00-Jeff Robertson[6]; 8. 4M-Duane Burford[8]
Performance Electronics Heat 4 (8 Laps): 1. 06-Marek Pipe[4]; 2. F4-Chandler Foltz[2]; 3. 12N-Keith Lischer[6]; 4. 121-Landon Falkenberg[5]; 5. 39-Rex Johnson[1]; 6. 92X-Michael Payton[3]; 7. (DNS) 30-Billy Groff
---
Submitted By: Bryan Hulbert
Article Media
Back to News