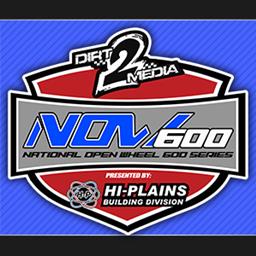 8/20/2023
NOW600 National Micros
---
Gile, Weldon, and Lagroon Add Their Names To Dirt2Media NOW600 List Of Winners
Bryan Hulbert – FAIRBURY, Neb. (August 19, 2023) Three drivers added their names to the list of winners with the Dirt2Media National Open Wheel 600 Series presented by Hi-Plains Building Division Saturday night at Jefferson County Speedway, as Elijah Gile, Gaige Weldon, and Cale Lagroon went to Victory Lane.
Jumping to the lead from the start in A-Class, Elijah Gile held point until traffic at the race's mid-point. Chased by Friday night's winner, Jett Hays, the No. 11j shot to the lead on Lap 17. Looking to be on his way to a weekend sweep, mechanical issues struck on Lap 22, sidelining Hays and advancing Gile back to the top spot. Brant Woods, from tenth, ended up second, with Gaige Weldon third from ninth. Dominic White advanced seven spots to fourth, with Kaden Weger in fifth.
Chasing Jett Hays the opening 22 laps, traffic bit the No. 11j hard. Racing to the top on the first turn, Hays nearly went end over end off the right rear of Tyler Hendrickson. Able to somehow avoid catastrophe, it was just enough to cost him the lead and allow Gaige Weldon his first career NOW600 victory. Elijah Gile crossed third, with Rider McCutcheon fourth. Up eight spots, Jackson Kounkel was steady around the hub to grab fifth.
Leading laps, but never the last one, that changed for Cale Lagroon as the No. 24c led start-to-finish in the Restricted feature. Rolling up from fifth, Friday night's winner, Hank Soares, made it to second, with Ollie Geiger up six spots to third. Braxton Weger crossed fourth, with Cash Lacombe in fifth.
Saturday's F-Town Tooleys Showdown at Jefferson County Speedway brought 111 entries, including the Mod Lites and Sportsman divisions.
The 2023 season marks the 11th year of competition for the National Open Wheel 600 Series. Anchored by the Dirt2Media NOW600 National Championship, the NOW600 Series comprises several regional tours and sanctioned racetracks. The NOW600 National Championship features three divisions of 600cc micro sprints at each event: Stock Non-Wing, Winged A-Class, and Restricted 'A' Class.
Live online coverage of NOW600 National competition and select weekly and regional events can be found on http://www.dirt2media.com for $32.99 a month. Races can be viewed on all major web browsers, Smart TVs, Gaming Consoles, Fire TV, iOS app, and Chromecast.
To keep up on everything happening with the National Open Wheel 600 Series, from the National Tour to Regional and Weekly racing lineups, log onto http://www.now600series.com and make sure to follow the tour on Facebook and Twitter (@NOW600Series).
Race Results:
Dirt2Media NOW600 Series
Jefferson County Speedway (Fairbury, Neb.)
Saturday, August 19, 2023
NOW600 NON-WING MICROS
Hi Plains Building Division A-Main (25 Laps): 1. 35-Gaige Weldon[2]; 2. 11J-Jett Hays[1]; 3. 13-Elijah Gile[3]; 4. 5-Ryder McCutcheon[4]; 5. 38-Jackson Kounkel[13]; 6. 22-Jesse Pate[5]; 7. 2F-Jadyn Friesen[14]; 8. 35W-Caleb Woodard[15]; 9. 1F-Jason Friesen[8]; 10. 29-Trevor Cohn[20]; 11. 1G-Garett Hake[17]; 12. 20P-Shon Pointer[19]; 13. 11T-Trevin Frye[12]; 14. 5A-Ava Gropp[9]; 15. 75-Bobby Eubanks[7]; 16. 81AU-Dekota Gay[10]; 17. 14-Tyler Hendrickson[16]; 18. 11X-Kaden Weger[11]; 19. 19X-Marcus Kennedy[18]; 20. 10-Taylor Morgan[6]
Hoss Media B-Main 1 (12 Laps): 1. 35W-Caleb Woodard[2]; 2. 14-Tyler Hendrickson[3]; 3. 1G-Garett Hake[16]; 4. 19X-Marcus Kennedy[6]; 5. 20P-Shon Pointer[7]; 6. 29-Trevor Cohn[13]; 7. A51-Jason Trosper[14]; 8. 17-Talon McConnell[4]; 9. 4G-Landon Gasseling[9]; 10. 02R-Kaitlyn Russell[15]; 11. 38R-Riley Osantowski[5]; 12. 70-Micah Becker[8]; 13. (DNS) 5KX-Kelbie Volkman; 14. (DNS) 53-Graham Hamilton; 15. (DNS) L98L-Matthew Laflin; 16. (DNS) 13C-Chris Counter
Milestone Home Service Co Heat 1 (8 Laps): 1. 1F-Jason Friesen[1]; 2. 13-Elijah Gile[4]; 3. 11X-Kaden Weger[2]; 4. 38-Jackson Kounkel[3]; 5. 17-Talon McConnell[6]; 6. 53-Graham Hamilton[5]; 7. 29-Trevor Cohn[7]; 8. 02R-Kaitlyn Russell[8]
Milestone Home Service Co Heat 2 (8 Laps): 1. 75-Bobby Eubanks[1]; 2. 22-Jesse Pate[3]; 3. 10-Taylor Morgan[4]; 4. 2F-Jadyn Friesen[5]; 5. 35W-Caleb Woodard[8]; 6. 4G-Landon Gasseling[6]; 7. 13C-Chris Counter[7]; 8. 1G-Garett Hake[2]
Milestone Home Service Co Heat 3 (8 Laps): 1. 35-Gaige Weldon[3]; 2. 5-Ryder McCutcheon[4]; 3. 5KX-Kelbie Volkman[1]; 4. 14-Tyler Hendrickson[2]; 5. 38R-Riley Osantowski[5]; 6. 70-Micah Becker[6]; 7. L98L-Matthew Laflin[7]
Milestone Home Service Co Heat 4 (8 Laps): 1. 11J-Jett Hays[3]; 2. 5A-Ava Gropp[1]; 3. 11T-Trevin Frye[2]; 4. 81AU-Dekota Gay[4]; 5. 19X-Marcus Kennedy[5]; 6. 20P-Shon Pointer[7]; 7. A51-Jason Trosper[6]
Performance Electronics Qualifying 1 (3 Laps): 1. 13-Elijah Gile, 11.612[4]; 2. 38-Jackson Kounkel, 11.706[2]; 3. 11X-Kaden Weger, 11.748[6]; 4. 1F-Jason Friesen, 11.881[1]; 5. 53-Graham Hamilton, 11.962[3]; 6. 17-Talon McConnell, 12.107[7]; 7. 29-Trevor Cohn, 12.288[8]; 8. 02R-Kaitlyn Russell, 12.894[5]
Performance Electronics Qualifying 2 (3 Laps): 1. 10-Taylor Morgan, 11.625[8]; 2. 22-Jesse Pate, 11.737[2]; 3. 1G-Garett Hake, 11.798[7]; 4. 75-Bobby Eubanks, 11.861[1]; 5. 2F-Jadyn Friesen, 11.917[6]; 6. 4G-Landon Gasseling, 12.085[4]; 7. 13C-Chris Counter, 12.114[5]; 8. 35W-Caleb Woodard, 12.285[3]
Performance Electronics Qualifying 3 (3 Laps): 1. 5-Ryder McCutcheon, 11.725[4]; 2. 35-Gaige Weldon, 11.866[5]; 3. 14-Tyler Hendrickson, 11.902[7]; 4. 5KX-Kelbie Volkman, 11.933[2]; 5. 38R-Riley Osantowski, 12.004[6]; 6. 70-Micah Becker, 12.014[3]; 7. L98L-Matthew Laflin, 12.072[1]
Performance Electronics Qualifying 4 (3 Laps): 1. 81AU-Dekota Gay, 11.717[7]; 2. 11J-Jett Hays, 11.744[6]; 3. 11T-Trevin Frye, 12.055[1]; 4. 5A-Ava Gropp, 12.083[4]; 5. 19X-Marcus Kennedy, 12.084[5]; 6. A51-Jason Trosper, 12.110[2]; 7. 20P-Shon Pointer, 12.155[3]
NOW600 A-CLASS MICROS
Hi Plains Building Division A-Main (25 Laps): 1. 13-Elijah Gile[1]; 2. 83-Brant Woods[10]; 3. 35-Gaige Weldon[9]; 4. 11D-Dominic White[11]; 5. 27KW-Kaden Weger[4]; 6. 21-Riley Osantowski[7]; 7. 22-Jesse Pate[2]; 8. 31BW-Braxton Weger[14]; 9. 38-Jackson Kounkel[13]; 10. 78C-Chance Cody[8]; 11. 1F-Jason Friesen[15]; 12. 70-Micah Becker[20]; 13. 59-Evan Semerad[12]; 14. 53-Graham Hamilton[19]; 15. 11J-Jett Hays[5]; 16. 2F-Jadyn Friesen[6]; 17. 91-Alec Frisell[16]; 18. 9A-Hunter Hanson[18]; 19. 81-Dekota Gay[17]; 20. 24C-Cale Lagroon[3]
Hoss Media B-Main 1 (12 Laps): 1. 1F-Jason Friesen[5]; 2. 81-Dekota Gay[8]; 3. 53-Graham Hamilton[3]; 4. 45-Skyler Burns[7]; 5. 87-Jesse Edwards[6]; 6. 1X-Reid Shipman[4]; 7. 14N-Damian Nelson[1]; 8. 10-Taylor Morgan[2]; 9. (DNS) 16D-Cael Dice; 10. (DNS) 5-Ryder McCutcheon; 11. (DNS) 5KX-Kelbie Volkman
Hoss Media B-Main 2 (12 Laps): 1. 91-Alec Frisell[1]; 2. 9A-Hunter Hanson[2]; 3. 70-Micah Becker[6]; 4. 8T-Cody Berkenmeier[7]; 5. 13C-Chris Counter[4]; 6. 4G-Landon Gasseling[9]; 7. 5S-Zak Swanson[5]; 8. (DNS) 14-Tyler Hendrickson; 9. (DNS) 15D-Kyler Dice; 10. (DNS) 01-Jude Allgayer
Milestone Home Service Co Heat 1 (8 Laps): 1. 2F-Jadyn Friesen[1]; 2. 27KW-Kaden Weger[3]; 3. 38-Jackson Kounkel[2]; 4. 31BW-Braxton Weger[6]; 5. 91-Alec Frisell[4]; 6. 1F-Jason Friesen[7]; 7. 70-Micah Becker[8]; 8. 4G-Landon Gasseling[5]; 9. 5-Ryder McCutcheon[9]
Milestone Home Service Co Heat 2 (8 Laps): 1. 13-Elijah Gile[4]; 2. 78C-Chance Cody[2]; 3. 83-Brant Woods[3]; 4. 14N-Damian Nelson[5]; 5. 53-Graham Hamilton[6]; 6. 1X-Reid Shipman[8]; 7. 81-Dekota Gay[1]; 8. 16D-Cael Dice[7]; 9. 01-Jude Allgayer[9]
Milestone Home Service Co Heat 3 (8 Laps): 1. 24C-Cale Lagroon[2]; 2. 22-Jesse Pate[4]; 3. 11D-Dominic White[3]; 4. 14-Tyler Hendrickson[1]; 5. 9A-Hunter Hanson[6]; 6. 13C-Chris Counter[7]; 7. 87-Jesse Edwards[8]; 8. 8T-Cody Berkenmeier[9]; 9. 5KX-Kelbie Volkman[5]
Milestone Home Service Co Heat 4 (8 Laps): 1. 11J-Jett Hays[1]; 2. 21-Riley Osantowski[2]; 3. 35-Gaige Weldon[5]; 4. 59-Evan Semerad[4]; 5. 10-Taylor Morgan[3]; 6. 5S-Zak Swanson[6]; 7. 45-Skyler Burns[7]; 8. 15D-Kyler Dice[8]
Performance Electronics Qualifying 1 (3 Laps): 1. 91-Alec Frisell, 11.464[6]; 2. 27KW-Kaden Weger, 11.619[9]; 3. 38-Jackson Kounkel, 11.698[2]; 4. 2F-Jadyn Friesen, 11.774[3]; 5. 5-Ryder McCutcheon, 11.950[8]; 6. 4G-Landon Gasseling, 11.967[1]; 7. 31BW-Braxton Weger, 11.989[7]; 8. 1F-Jason Friesen, 12.052[5]; 9. 70-Micah Becker, 12.151[4]
Performance Electronics Qualifying 2 (3 Laps): 1. 13-Elijah Gile, 10.988[3]; 2. 83-Brant Woods, 11.090[4]; 3. 78C-Chance Cody, 11.314[2]; 4. 81-Dekota Gay, 11.433[1]; 5. 14N-Damian Nelson, 11.504[8]; 6. 53-Graham Hamilton, 11.681[5]; 7. 01-Jude Allgayer, 11.743[7]; 8. 16D-Cael Dice, 11.819[6]; 9. 1X-Reid Shipman, 11.832[9]
Performance Electronics Qualifying 3 (3 Laps): 1. 22-Jesse Pate, 11.084[4]; 2. 11D-Dominic White, 11.258[9]; 3. 24C-Cale Lagroon, 11.337[3]; 4. 14-Tyler Hendrickson, 11.485[5]; 5. 5KX-Kelbie Volkman, 11.490[2]; 6. 9A-Hunter Hanson, 11.492[7]; 7. 13C-Chris Counter, 11.508[8]; 8. 87-Jesse Edwards, 11.616[6]; 9. 8T-Cody Berkenmeier, 11.648[1]
Performance Electronics Qualifying 4 (3 Laps): 1. 59-Evan Semerad, 11.045[7]; 2. 10-Taylor Morgan, 11.193[3]; 3. 21-Riley Osantowski, 11.195[2]; 4. 11J-Jett Hays, 11.269[5]; 5. 35-Gaige Weldon, 11.347[4]; 6. 5S-Zak Swanson, 11.415[1]; 7. 45-Skyler Burns, 11.456[6]; 8. 15D-Kyler Dice, 11.745[8]
NOW600 RESTRICTED MICROS
Hi Plains Building Division A-Main (25 Laps): 1. 24C-Cale Lagroon[1]; 2. 22-Hank Soares[5]; 3. 7G-Ollie Geiger[9]; 4. 31BW-Braxton Weger[3]; 5. 97-Cash Lacombe[4]; 6. 4-Jude Allgayer[2]; 7. 14S-Sawyer Kiner[8]; 8. B2-Carson Bolden[6]; 9. 14-Kamden Gossard[7]; 10. 30-Kyler Bearce[12]; 11. 73-Chase McDougal[11]; 12. 11K-Kyle Hooper[17]; 13. 83-Dawson Woods[14]; 14. 31Z-Sawyer Zimmerman[19]; 15. 17H-Carson Holt[18]; 16. 18-Tityn Roberts[13]; 17. 27-Luke Samuelson[21]; 18. 11R-Raelyn White[20]; 19. 319-Haidyn Hansen[16]; 20. 91-Sam Kaller[15]; 21. 18T-Taelynne Roberts[10]
Milestone Home Service Co Heat 1 (8 Laps): 1. 97-Cash Lacombe[4]; 2. B2-Carson Bolden[1]; 3. 14S-Sawyer Kiner[2]; 4. 30-Kyler Bearce[5]; 5. 83-Dawson Woods[3]; 6. 319-Haidyn Hansen[7]; 7. 27-Luke Samuelson[6]
Milestone Home Service Co Heat 2 (8 Laps): 1. 31BW-Braxton Weger[3]; 2. 22-Hank Soares[2]; 3. 18T-Taelynne Roberts[1]; 4. 73-Chase McDougal[5]; 5. 18-Tityn Roberts[4]; 6. 11K-Kyle Hooper[6]; 7. 11R-Raelyn White[7]
Milestone Home Service Co Heat 3 (8 Laps): 1. 4-Jude Allgayer[2]; 2. 14-Kamden Gossard[1]; 3. 24C-Cale Lagroon[4]; 4. 7G-Ollie Geiger[3]; 5. 91-Sam Kaller[5]; 6. 17H-Carson Holt[6]; 7. 31Z-Sawyer Zimmerman[7]
Performance Electronics Qualifying 1 (3 Laps): 1. 97-Cash Lacombe, 11.460[1]; 2. 83-Dawson Woods, 11.599[2]; 3. 14S-Sawyer Kiner, 11.810[3]; 4. B2-Carson Bolden, 11.815[6]; 5. 30-Kyler Bearce, 11.881[4]; 6. 27-Luke Samuelson, 11.967[7]; 7. 319-Haidyn Hansen, 12.237[5]
Performance Electronics Qualifying 2 (3 Laps): 1. 18-Tityn Roberts, 11.462[7]; 2. 31BW-Braxton Weger, 11.553[6]; 3. 22-Hank Soares, 11.807[4]; 4. 18T-Taelynne Roberts, 11.832[1]; 5. 73-Chase McDougal, 11.841[3]; 6. 11K-Kyle Hooper, 11.863[5]; 7. 11R-Raelyn White, 12.908[2]
Performance Electronics Qualifying 3 (3 Laps): 1. 24C-Cale Lagroon, 11.514[3]; 2. 7G-Ollie Geiger, 11.620[6]; 3. 4-Jude Allgayer, 11.745[4]; 4. 14-Kamden Gossard, 11.860[1]; 5. 91-Sam Kaller, 11.901[5]; 6. 17H-Carson Holt, 12.030[2]; 7. 31Z-Sawyer Zimmerman, 12.064[7]
---
Submitted By: Bryan Hulbert
Article Media
Back to News