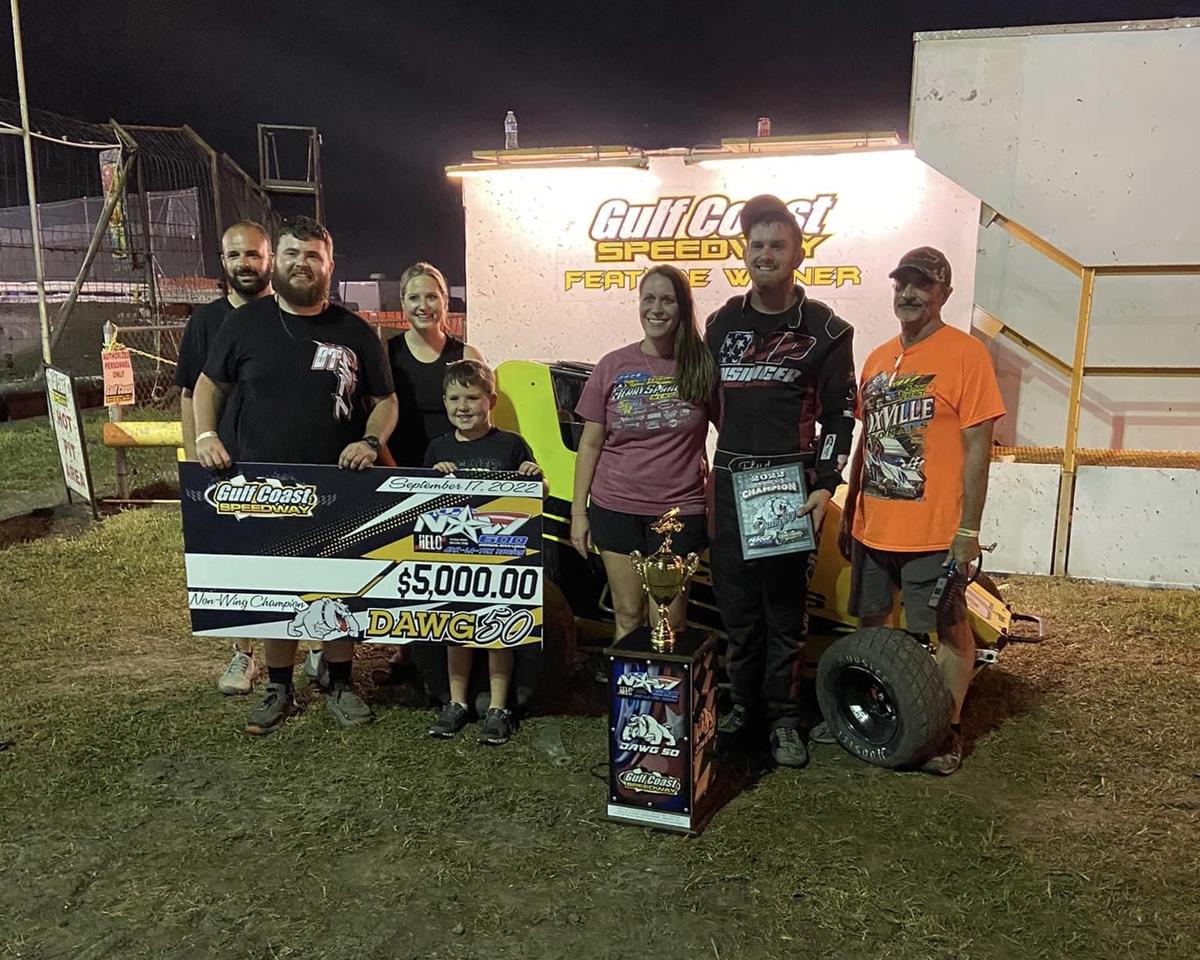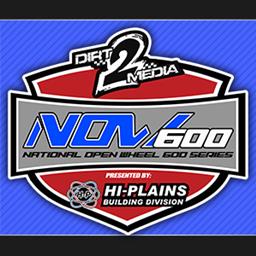 9/19/2022
NOW600 National Micros
---
Frank Flud Pockets $5,000 with The Dawg 50 Win at Gulf Coast Speedway!
ALVIN, Texas (Sept. 19, 2022) - A $5,000 top prize in the inaugural Dawg 50 went to Tulsa, Oklahoma's Frank Flud on Saturday with the NOW600 Helo Vodka Ark-La-Tex Region at Gulf Coast Speedway.
A field of 47 Stock Non-Wing Micro Sprints were on hand at the 1/5 mile oval located outside of Houston, Texas.
Flud from the pole of the 50-lap feature event went on to take the victory. JJ Loss finished in the second spot with Kale Drake crossing in third. Cameron Paul was fourth with Isaiah Garcia rounding out the top five.
Dalten Maust picked up the Restricted feature win with Luke Lucas topping Turf Tire. Holley Spake was victorious in Junior Sprints.
RACE RESULTS >>
9/17/2022 at Gulf Coast Speedway
NOW600 Helo Vodka Ark-La-Tex Region
NOW600 Hi Plains Building Division Weekly Racing
NOW600 Non-Wing Micros | NOW600 Ark-La-Tex Region
The Dawg 50 $5K To WIN A Feature 1 (50 Laps): 1. 81-Frank Flud[1]; 2. 67J-JJ Loss[2]; 3. 26K-Kale Drake[4]; 4. 1J-Cameron Paul[3]; 5. 17G-Isaiah Garcia[24]; 6. 26-Corbin Rueschenberg[10]; 7. 8-Michael McNeil[8]; 8. 38-Karson Battarbee[14]; 9. 78-Ethan Ayars[12]; 10. 72-Alex Karpowicz[6]; 11. 99-Chris Russell[22]; 12. 62-Rachel Zabawa[18]; 13. 66-Jayden Clay[16]; 14. 13-Maverick Elkins[9]; 15. 93-Raleigh Shepherd[23]; 16. 55X-Connor Chamberlain[19]; 17. 188-Blake Moeller[17]; 18. (DNF) 88-Aaron Barmore[11]; 19. (DNF) 57-Jacob Lucas[7]; 20. (DNF) 110-Karter Battarbee[15]; 21. (DNF) 2L-Christopher Larson[13]; 22. (DNF) 01-Weldon Buford[21]; 23. (DNF) 11M-Lawrence Mann Jr[20]; 24. (DNF) 51-Caleb Martin[5]
The Dawg 50 B Feature 1 (12 Laps): 1. 110-Karter Battarbee[1]; 2. 66-Jayden Clay[3]; 3. 188-Blake Moeller[5]; 4. 62-Rachel Zabawa[13]; 5. 55X-Connor Chamberlain[14]; 6. 11M-Lawrence Mann Jr[4]; 7. 01-Weldon Buford[9]; 8. 99-Chris Russell[16]; 9. 93-Raleigh Shepherd[8]; 10. 17G-Isaiah Garcia[6]
C Feature 1 (10 Laps): 1. 188-Blake Moeller[1]; 2. 126-Autumn Criste[2]; 3. 01-Weldon Buford[3]; 4. 171-Alex Caldwell[4]; 5. 62-Rachel Zabawa[5]; 6. 29M-Lawrence Mann[7]; 7. 21H-Dustin Hamelmann[6]
C Feature 2 (10 Laps): 1. 17G-Isaiah Garcia[1]; 2. 93-Raleigh Shepherd[3]; 3. 5T-Oscar Aguilera[2]; 4. 41T-Tanner Dunlap[11]; 5. 55X-Connor Chamberlain[5]; 6. 99-Chris Russell[4]; 7. 97-Dustin Maxwell[9]
The Dawg 50 Heat 1 (8 Laps): 1. 51-Caleb Martin[2]; 2. 29W-Mike Walling[1]; 3. 2L-Christopher Larson[5]; 4. 38-Karson Battarbee[7]; 5. 110-Karter Battarbee[9]; 6. 10-Patrick Lundy[3]; 7. 15G-Grant Gilbert[4]; 8. 41T-Tanner Dunlap[8]; 9. 36-John Pate[6]
The Dawg 50 Heat 2 (8 Laps): 1. 88-Aaron Barmore[1]; 2. 78-Ethan Ayars[3]; 3. 26-Corbin Rueschenberg[6]; 4. 55X-Connor Chamberlain[2]; 5. 17G-Isaiah Garcia[8]; 6. 29M-Lawrence Mann[5]; 7. 9D-Deagen Lelsz[4]; 8. 24C-Ray Allen Kulhanek[7]; 9. (DNS) 14G-Madelyn Gjerness
The Dawg 50 Heat 3 (8 Laps): 1. 72-Alex Karpowicz[2]; 2. 13-Maverick Elkins[4]; 3. 5T-Oscar Aguilera[3]; 4. 19-Kaden Trotter[1]; 5. 171-Alex Caldwell[7]; 6. 21H-Dustin Hamelmann[8]; 7. 75-Sean Wilkins[5]; 8. (DNS) 96-Jayson Campbell; 9. (DNS) 43-Matthew Blaylock
The Dawg 50 Heat 4 (8 Laps): 1. 57-Jacob Lucas[2]; 2. 66-Jayden Clay[1]; 3. 01-Weldon Buford[3]; 4. 188-Blake Moeller[6]; 5. 126-Autumn Criste[8]; 6. 91-Bash Ferguson[4]; 7. 97-Dustin Maxwell[7]; 8. 224-Harley Whatley[5]
The Dawg 50 Heat 5 (8 Laps): 1. 8-Michael McNeil[2]; 2. 11M-Lawrence Mann Jr[1]; 3. 93-Raleigh Shepherd[3]; 4. 62-Rachel Zabawa[4]; 5. 99-Chris Russell[7]; 6. 92-Tim Ferguson[5]; 7. 27A-joe duncan[8]; 8. (DNS) 27-Jace Alvarez
NOW600 Restricted Micros
$1K To WIN A Feature 1 (20 Laps): 1. 84-Dalten Maust[3]; 2. 61-Brannon Lucas[1]; 3. 15K-KayDee Howard[4]; 4. 97-Cash Lacombe[2]; 5. 71-Anthony Rea[6]; 6. 4-Jude Allgayer[7]; 7. 87C-Callan Hill[8]; 8. 21D-Dalton Wayne[5]; 9. 21H-Dilynn Hamelman[9]
Heat 1 (8 Laps): 1. 97-Cash Lacombe[2]; 2. 84-Dalten Maust[4]; 3. 15K-KayDee Howard[5]; 4. 71-Anthony Rea[1]; 5. 4-Jude Allgayer[3]
Heat 2 (8 Laps): 1. 61-Brannon Lucas[4]; 2. 21D-Dalton Wayne[1]; 3. (DNF) 87C-Callan Hill[3]; 4. (DNF) 21H-Dilynn Hamelman[2]
NOW600 Turf Tire Micros
A Feature 1 (20 Laps): 1. 35-Luke Lucas[3]; 2. 54-brian caldwell[7]; 3. 87-Dustin Bottoms[14]; 4. 64-Kenny Caldwell[6]; 5. 171-Alex Caldwell[13]; 6. 83K-Cody Kokes[2]; 7. 63R-Dylan Rogers[4]; 8. 22-Caleb Henry[9]; 9. 51-Brian Perry[8]; 10. 21T-Stephen Robbins[12]; 11. 7R-Rylie Yates[10]; 12. 13R-Randy Raper[1]; 13. 57T-Willie Hadley[11]; 14. 83-Chris Russell[5]
Heat 1 (8 Laps): 1. 13R-Randy Raper[2]; 2. 87-Dustin Bottoms[4]; 3. 171-Alex Caldwell[5]; 4. 63R-Dylan Rogers[7]; 5. 22-Caleb Henry[3]; 6. 7R-Rylie Yates[1]; 7. 57T-Willie Hadley[6]
Heat 2 (8 Laps): 1. 35-Luke Lucas[1]; 2. 83K-Cody Kokes[4]; 3. 64-Kenny Caldwell[2]; 4. 83-Chris Russell[6]; 5. 54-brian caldwell[5]; 6. 51-Brian Perry[7]; 7. 21T-Stephen Robbins[3]
NOW600 Junior Sprints
A Feature 1 (15 Laps): 1. 39-Holley Spake[3]; 2. 13-Jase Raper[8]; 3. 66-Jack Loss[6]; 4. 24C-Carolynn Sanders[7]; 5. 36-Ashlynn Slough[4]; 6. 63-Monkey Creacy[5]; 7. 51-Kase Martin[9]; 8. 251-kinslee mckelvy[11]; 9. 4-David Spencer[1]; 10. 22-Greyson Henry[2]; 11. 3R-ryder sanders[10]
Heat 1 (8 Laps): 1. 39-Holley Spake[1]; 2. 22-Greyson Henry[4]; 3. 24C-Carolynn Sanders[2]; 4. 63-Monkey Creacy[6]; 5. 3R-ryder sanders[3]; 6. 251-kinslee mckelvy[5]
Heat 2 (8 Laps): 1. 4-David Spencer[2]; 2. 36-Ashlynn Slough[1]; 3. 66-Jack Loss[3]; 4. 13-Jase Raper[5]; 5. 51-Kase Martin[4]
---
Submitted By: Terry Mattox
Back to News