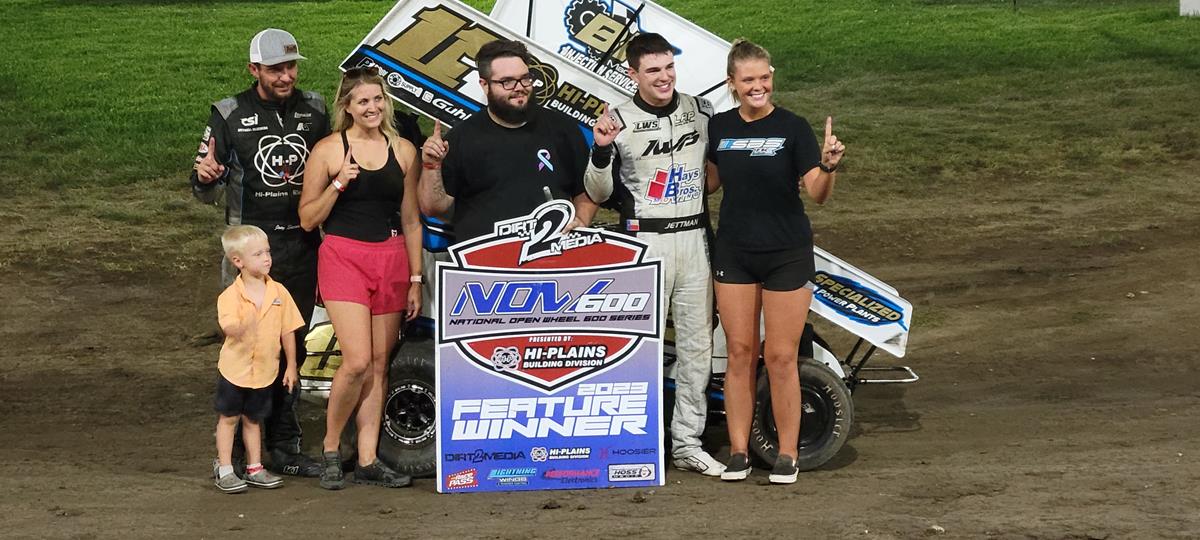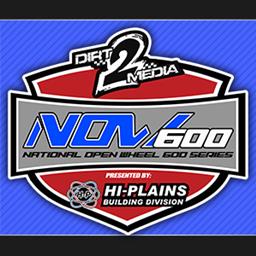 7/29/2023
NOW600 National Micros
---
Opening Night Of Dirt2Media NOW600 At KAM Raceway Goes To Hays, McDougal, and Geiger
Bryan Hulbert – HASTINGS, Neb. (July 28, 2023) Racing all over KAM Raceway Friday night, the Dirt2Media National Open Wheel 600 Series presented by Hi-Plains Building Division, preliminary A-Feature wins went to Jett Hays in A-Class, Jason McDougal in Non-Wing, and Ollie Geiger in Restricted.
The second time in his career that Hays has topped A-Class, the No. 11j shot fourth to second at the start. Chasing Jackson Kounkel, the opening six revolutions, Hays and Kounkel went slide for slide through the seventh lap with the Fort Worth, Texas shoe taking over. Building a sizable advantage through traffic, caution on Lap 6 gave Jadyn Friesen a shot at the point, but nothing was going to keep Jett Hays from victory lane. Friesen, from sixth, crossed second, with Brant Woods moving ninth to third. Joey Starnes and Dominic White completed the top five.
Last going to Dirt2Media NOW600 Victory Lane on October 20, 2017, at Caney Valley Speedway, Jason McDougal ended the drought by leading from start to finish for his second career win wingless triumph. Surviving numerous restarts during the mid-point of the feature event, the No. 91 crossed with 1.787-seconds to spare over Joey Starnes. Third went to Colton Mcwhirter, with Kormick Linner fourth. Starting 20th, New Mexico's Ryder McCutcheon drove through the field to fifth.
The 63rd driver to add their name to the list of winners in Restricted, Nebraska's Ollie Geiger held off the ferocious charge of Cale Lagroon for his first Dirt2Media NOW600 victory. Challenged on nearly every restart by the No. 24c, the top side came close for Cale, but not quite enough as Geiger crossed with a 0.904-second advantage. Braxton Weger was third, followed by Sawyer Kiner and Carson Bolden to complete the top five.
The Dirt2Media National Open Wheel 600 Series presented by Hi-Plains Building Division is back at KAM Raceway for Round 2 on Saturday, July 29.
Racing gets underway at 7:30 P.M. (CDT). Grandstands are $15, with Pit Passes $30 per class entered. KAM Raceway is located at 4880 East J St. in Hastings, Neb. For information on the track, call (402) 519-0553 or follow on Social Media at https://www.facebook.com/RacewayKam.
The 2023 season marks the 11th year of competition for the National Open Wheel 600 Series. Anchored by the Dirt2Media NOW600 National Championship, the NOW600 Series comprises several regional tours and sanctioned racetracks. The NOW600 National Championship features three divisions of 600cc micro sprints at each event: Stock Non-Wing, Winged A-Class, and Restricted 'A' Class.
Live online coverage of NOW600 National competition and select weekly and regional events can be found on http://www.dirt2media.com for $32.99 a month. Races can be viewed on all major web browsers, Smart TVs, Gaming Consoles, Fire TV, iOS app, and Chromecast.
To keep up on everything happening with the National Open Wheel 600 Series, from the National Tour to Regional and Weekly racing lineups, log onto http://www.now600series.com and make sure to follow the tour on Facebook and Twitter (@NOW600Series).
Race Results:
Dirt2Media NOW600 Series
KAM Raceway (Hastings, Neb.)
Friday, July 28, 2023
NOW600 NON-WING MICROS
Hi Plains Building Division A-Main (25 Laps): 1. 91M-Jason McDougal[2]; 2. 11X-Joey Starnes[4]; 3. 98X-Colton Mcwhirter[3]; 4. 04-Kormick Linner[13]; 5. 5-Ryder McCutcheon[20]; 6. 38-Jackson Kounkel[14]; 7. 3R-Hunter Rhoades[9]; 8. 19X-Marcus Kennedy[12]; 9. 33X-Cruz Dickerson[19]; 10. 5KX-Kelbie Volkman[7]; 11. 1F-Jason Friesen[15]; 12. 7-Bobby Eubanks[11]; 13. 22A-Carson Anderson[8]; 14. 5A-Ava Gropp[10]; 15. 14-Tyler Hendrickson[16]; 16. 27KW-Kaden Weger[18]; 17. 35-Gaige Weldon[1]; 18. 2F-Jadyn Friesen[5]; 19. 5X-Dylan Steinkruger[17]; 20. 23R-Skylar Rhoades[6]
Hoss Media B-Main 1 (12 Laps): 1. 1F-Jason Friesen[2]; 2. 5X-Dylan Steinkruger[1]; 3. 33X-Cruz Dickerson[4]; 4. 67-Greg Berry[3]; 5. 37-Josh Halte[6]; 6. 98-Ed Libonati[9]; 7. 51K-Kaimron Schoonover[13]; 8. 22-Jesse Pate[11]; 9. 7R-Rob Lipker[8]; 10. 33-Laike Imm[10]; 11. 37C-Caleb Odle[7]; 12. 29-Trevor Cohn[5]; 13. (DNS) 14L-Jacob Lipker; 14. (DNS) 01-Weldon Buford
Hoss Media B-Main 2 (12 Laps): 1. 14-Tyler Hendrickson[2]; 2. 27KW-Kaden Weger[4]; 3. 5-Ryder McCutcheon[5]; 4. 98L-Matthew Laflin[1]; 5. 44-Hayden Holt[6]; 6. 13C-Chris Counter[11]; 7. 53-Graham Hamilton[10]; 8. 00-Jarred Hackler[3]; 9. 25S-Heath Shannon[7]; 10. 16D-Cael Dice[8]; 11. (DNS) 2N-Dawson Nunnenkamp; 12. (DNS) 11J-Jett Hays; 13. (DNS) 15D-Kyler Dice
Milestone Home Service Co Heat 1 (8 Laps): 1. 2F-Jadyn Friesen[2]; 2. 35-Gaige Weldon[4]; 3. 5A-Ava Gropp[3]; 4. 1F-Jason Friesen[5]; 5. 33X-Cruz Dickerson[7]; 6. 5-Ryder McCutcheon[8]; 7. 98-Ed Libonati[6]; 8. 53-Graham Hamilton[9]; 9. 13C-Chris Counter[1]
Milestone Home Service Co Heat 2 (8 Laps): 1. 91M-Jason McDougal[3]; 2. 5KX-Kelbie Volkman[2]; 3. 14-Tyler Hendrickson[1]; 4. 38-Jackson Kounkel[4]; 5. 11J-Jett Hays[7]; 6. 37C-Caleb Odle[6]; 7. 2N-Dawson Nunnenkamp[5]; 8. (DNS) 14L-Jacob Lipker
Milestone Home Service Co Heat 3 (8 Laps): 1. 11X-Joey Starnes[4]; 2. 04-Kormick Linner[1]; 3. 19X-Marcus Kennedy[3]; 4. 67-Greg Berry[5]; 5. 27KW-Kaden Weger[6]; 6. 44-Hayden Holt[7]; 7. 7R-Rob Lipker[8]; 8. 22-Jesse Pate[2]
Milestone Home Service Co Heat 4 (8 Laps): 1. 23R-Skylar Rhoades[1]; 2. 22A-Carson Anderson[2]; 3. 7-Bobby Eubanks[3]; 4. 5X-Dylan Steinkruger[4]; 5. 29-Trevor Cohn[6]; 6. 51K-Kaimron Schoonover[7]; 7. 33-Laike Imm[5]; 8. (DNS) 15D-Kyler Dice
Milestone Home Service Co Heat 5 (8 Laps): 1. 98X-Colton Mcwhirter[4]; 2. 3R-Hunter Rhoades[2]; 3. 00-Jarred Hackler[1]; 4. 98L-Matthew Laflin[3]; 5. 37-Josh Halte[5]; 6. 25S-Heath Shannon[6]; 7. 16D-Cael Dice[7]; 8. (DNS) 01-Weldon Buford
Performance Electronics Qualifying 1 (3 Laps): 1. 35-Gaige Weldon, 11.357[2]; 2. 5A-Ava Gropp, 11.478[3]; 3. 2F-Jadyn Friesen, 11.492[1]; 4. 13C-Chris Counter, 11.551[4]; 5. 1F-Jason Friesen, 11.584[8]; 6. 98-Ed Libonati, 11.714[9]; 7. 33X-Cruz Dickerson, 11.716[7]; 8. 5-Ryder McCutcheon, 11.720[5]; 9. 53-Graham Hamilton, 11.841[6]
Performance Electronics Qualifying 2 (3 Laps): 1. 38-Jackson Kounkel, 11.212[3]; 2. 91M-Jason McDougal, 11.391[1]; 3. 5KX-Kelbie Volkman, 11.567[2]; 4. 14-Tyler Hendrickson, 11.682[7]; 5. 2N-Dawson Nunnenkamp, 11.915[6]; 6. 37C-Caleb Odle, 11.972[8]; 7. 14L-Jacob Lipker, 11.972[4]; 8. (DNS) 11J-Jett Hays, NT
Performance Electronics Qualifying 3 (3 Laps): 1. 11X-Joey Starnes, 11.641[3]; 2. 19X-Marcus Kennedy, 11.702[2]; 3. 22-Jesse Pate, 11.707[5]; 4. 04-Kormick Linner, 11.714[7]; 5. 67-Greg Berry, 11.796[1]; 6. 27KW-Kaden Weger, 11.799[8]; 7. 44-Hayden Holt, 11.932[6]; 8. 7R-Rob Lipker, NT
Performance Electronics Qualifying 4 (3 Laps): 1. 5X-Dylan Steinkruger, 11.562[3]; 2. 7-Bobby Eubanks, 11.585[2]; 3. 22A-Carson Anderson, 11.814[4]; 4. 23R-Skylar Rhoades, 11.833[1]; 5. 33-Laike Imm, 12.019[5]; 6. 29-Trevor Cohn, 12.062[8]; 7. (DNS) 51K-Kaimron Schoonover, 12.062; 8. (DNS) 15D-Kyler Dice, NT
Performance Electronics Qualifying 5 (3 Laps): 1. 98X-Colton Mcwhirter, 11.702[6]; 2. 98L-Matthew Laflin, 11.955[8]; 3. 3R-Hunter Rhoades, 12.015[7]; 4. 00-Jarred Hackler, 12.017[1]; 5. 37-Josh Halte, 12.060[5]; 6. 25S-Heath Shannon, 12.098[3]; 7. 16D-Cael Dice, 12.389[2]; 8. (DNS) 01-Weldon Buford, NT
NOW600 A-CLASS MICROS
Hi Plains Building Division A-Main (25 Laps): 1. 11J-Jett Hays[4]; 2. 2F-Jadyn Friesen[6]; 3. 83-Brant Woods[9]; 4. 11X-Joey Starnes[3]; 5. 11D-Dominic White[7]; 6. 91M-Jason McDougal[5]; 7. 5-Ryder McCutcheon[11]; 8. 24C-Cale Lagroon[18]; 9. 01-Weldon Buford[13]; 10. 63-Jack Thomas[10]; 11. 27KW-Kaden Weger[15]; 12. 33X-Cruz Dickerson[17]; 13. 59-Evan Semerad[19]; 14. 22A-Carson Anderson[1]; 15. 1F-Jason Friesen[16]; 16. B2-Carson Bolden[20]; 17. 38-Jackson Kounkel[2]; 18. 14-Tyler Hendrickson[12]; 19. 22P-Jesse Pate[14]; 20. 35-Gaige Weldon[8]
Hoss Media B-Main 1 (12 Laps): 1. 27KW-Kaden Weger[2]; 2. 33X-Cruz Dickerson[4]; 3. 59-Evan Semerad[1]; 4. 17-Jason Potter[7]; 5. 91-Alec Frisell[12]; 6. 7G-Jackson Gray[6]; 7. 9A-Hunter Hanson[5]; 8. 53-Graham Hamilton[8]; 9. A51-Jason Trosper[9]; 10. 32-Jonathan Roberts[13]; 11. 2R-Remmi Butolph[10]; 12. 31BW-Braxton Weger[3]; 13. (DNS) 23R-Skylar Rhoades; 14. (DNS) 2N-Dawson Nunnenkamp; 15. (DNS) 15D-Kyler Dice
Hoss Media B-Main 2 (12 Laps): 1. 1F-Jason Friesen[2]; 2. 24C-Cale Lagroon[3]; 3. B2-Carson Bolden[1]; 4. 5KX-Kelbie Volkman[5]; 5. 33-Hayden Holt[4]; 6. 5S-Stone Smith[8]; 7. 45-Megan Thomas[12]; 8. 78C-Chance Cody[10]; 9. 99-Robbie Johnson[13]; 10. 13C-Chris Counter[14]; 11. 14N-Damian Nelson[7]; 12. 98-Ed Libonati[9]; 13. 16D-Cael Dice[11]; 14. (DNS) 3R-Hunter Rhoades
Milestone Home Service Co Heat 1 (8 Laps): 1. 22A-Carson Anderson[2]; 2. 83-Brant Woods[3]; 3. 5-Ryder McCutcheon[4]; 4. B2-Carson Bolden[6]; 5. 7G-Jackson Gray[5]; 6. A51-Jason Trosper[1]; 7. 5S-Stone Smith[9]; 8. 91-Alec Frisell[7]; 9. 99-Robbie Johnson[8]
Milestone Home Service Co Heat 2 (8 Laps): 1. 11D-Dominic White[2]; 2. 11X-Joey Starnes[4]; 3. 63-Jack Thomas[7]; 4. 24C-Cale Lagroon[5]; 5. 33X-Cruz Dickerson[8]; 6. 17-Jason Potter[3]; 7. 23R-Skylar Rhoades[1]; 8. 32-Jonathan Roberts[6]; 9. (DNS) 13C-Chris Counter
Milestone Home Service Co Heat 3 (8 Laps): 1. 38-Jackson Kounkel[2]; 2. 35-Gaige Weldon[3]; 3. 1F-Jason Friesen[1]; 4. 01-Weldon Buford[4]; 5. 33-Hayden Holt[8]; 6. 3R-Hunter Rhoades[7]; 7. 2R-Remmi Butolph[6]; 8. 45-Megan Thomas[5]; 9. (DNS) 15D-Kyler Dice
Milestone Home Service Co Heat 4 (8 Laps): 1. 91M-Jason McDougal[3]; 2. 11J-Jett Hays[4]; 3. 22P-Jesse Pate[2]; 4. 27KW-Kaden Weger[6]; 5. 5KX-Kelbie Volkman[5]; 6. 14N-Damian Nelson[7]; 7. 78C-Chance Cody[1]; 8. (DNS) 2N-Dawson Nunnenkamp
Milestone Home Service Co Heat 5 (8 Laps): 1. 2F-Jadyn Friesen[4]; 2. 14-Tyler Hendrickson[1]; 3. 59-Evan Semerad[2]; 4. 31BW-Braxton Weger[5]; 5. 9A-Hunter Hanson[3]; 6. 53-Graham Hamilton[6]; 7. 98-Ed Libonati[7]; 8. 16D-Cael Dice[8]
Performance Electronics Qualifying 1 (3 Laps): 1. 5-Ryder McCutcheon, 10.633[7]; 2. 83-Brant Woods, 10.767[1]; 3. 22A-Carson Anderson, 10.880[8]; 4. A51-Jason Trosper, 11.003[4]; 5. 7G-Jackson Gray, 11.003[6]; 6. B2-Carson Bolden, 11.019[9]; 7. 91-Alec Frisell, 11.036[3]; 8. 99-Robbie Johnson, 11.085[5]; 9. 5S-Stone Smith, 11.329[2]
Performance Electronics Qualifying 2 (3 Laps): 1. 11X-Joey Starnes, 10.849[3]; 2. 17-Jason Potter, 10.885[7]; 3. 11D-Dominic White, 10.954[1]; 4. 23R-Skylar Rhoades, 11.028[4]; 5. 24C-Cale Lagroon, 11.097[9]; 6. 13C-Chris Counter, 11.156[2]; 7. 63-Jack Thomas, 11.160[6]; 8. 33X-Cruz Dickerson, 11.214[5]; 9. 32-Jonathan Roberts, 11.763[8]
Performance Electronics Qualifying 3 (3 Laps): 1. 01-Weldon Buford, 10.624[8]; 2. 35-Gaige Weldon, 10.688[5]; 3. 38-Jackson Kounkel, 10.778[2]; 4. 1F-Jason Friesen, 10.866[3]; 5. 45-Megan Thomas, 11.049[7]; 6. 2R-Remmi Butolph, 11.234[9]; 7. 3R-Hunter Rhoades, 11.359[4]; 8. 15D-Kyler Dice, 11.359[1]; 9. 33-Hayden Holt, 11.359[6]
Performance Electronics Qualifying 4 (3 Laps): 1. 11J-Jett Hays, 10.576[4]; 2. 91M-Jason McDougal, 10.647[6]; 3. 22P-Jesse Pate, 10.763[3]; 4. 78C-Chance Cody, 10.775[5]; 5. 5KX-Kelbie Volkman, 10.829[2]; 6. 2N-Dawson Nunnenkamp, 10.861[8]; 7. 27KW-Kaden Weger, 10.961[7]; 8. 14N-Damian Nelson, 11.119[1]
Performance Electronics Qualifying 5 (3 Laps): 1. 2F-Jadyn Friesen, 10.687[1]; 2. 9A-Hunter Hanson, 10.823[2]; 3. 59-Evan Semerad, 10.880[6]; 4. 14-Tyler Hendrickson, 10.915[3]; 5. 31BW-Braxton Weger, 10.923[5]; 6. 53-Graham Hamilton, 10.947[4]; 7. 98-Ed Libonati, 11.025[7]; 8. 16D-Cael Dice, 12.910[8]
NOW600 RESTRICTED MICROS
Hi Plains Building Division A-Main (25 Laps): 1. 7G-Ollie Geiger[2]; 2. 24C-Cale Lagroon[4]; 3. 31BW-Braxton Weger[3]; 4. 14S-Sawyer Kiner[1]; 5. B2-Carson Bolden[6]; 6. 83-Dawson Woods[10]; 7. 22-Hank Soares[8]; 8. 23-Mason Nester[5]; 9. 30-Kyler Bearce[14]; 10. 73-Chase McDougal[11]; 11. 14-Kamden Gossard[12]; 12. 97-Cash Lacombe[9]; 13. 5S-Stone Smith[16]; 14. 4-Jude Allgayer[18]; 15. 18-Tityn Roberts[15]; 16. 17H-Carson Holt[19]; 17. 91-Sam Kaller[13]; 18. 18T-Taelynne Roberts[20]; 19. 27-Luke Samuelson[17]; 20. 2-Fox Funk[7]; 21. 3J-Josie Imm[21]
Milestone Home Service Co Heat 1 (8 Laps): 1. 31BW-Braxton Weger[3]; 2. B2-Carson Bolden[1]; 3. 97-Cash Lacombe[2]; 4. 22-Hank Soares[4]; 5. 18-Tityn Roberts[6]; 6. 5S-Stone Smith[5]; 7. 3J-Josie Imm[7]
Milestone Home Service Co Heat 2 (8 Laps): 1. 24C-Cale Lagroon[4]; 2. 2-Fox Funk[1]; 3. 83-Dawson Woods[2]; 4. 73-Chase McDougal[6]; 5. 30-Kyler Bearce[3]; 6. 27-Luke Samuelson[5]; 7. 18T-Taelynne Roberts[7]
Milestone Home Service Co Heat 3 (8 Laps): 1. 14S-Sawyer Kiner[2]; 2. 7G-Ollie Geiger[4]; 3. 23-Mason Nester[3]; 4. 14-Kamden Gossard[5]; 5. 91-Sam Kaller[6]; 6. 4-Jude Allgayer[1]; 7. 17H-Carson Holt[7]
Performance Electronics Qualifying 1 (3 Laps): 1. 22-Hank Soares, 11.142[1]; 2. 31BW-Braxton Weger, 11.179[2]; 3. 97-Cash Lacombe, 11.244[7]; 4. B2-Carson Bolden, 11.246[3]; 5. 5S-Stone Smith, 11.454[5]; 6. 18-Tityn Roberts, 11.646[4]; 7. 3J-Josie Imm, 13.083[6]
Performance Electronics Qualifying 2 (3 Laps): 1. 24C-Cale Lagroon, 11.261[7]; 2. 30-Kyler Bearce, 11.475[4]; 3. 83-Dawson Woods, 11.509[2]; 4. 2-Fox Funk, 11.594[6]; 5. 27-Luke Samuelson, 11.635[3]; 6. 73-Chase McDougal, 11.677[1]; 7. 18T-Taelynne Roberts, 12.631[5]
Performance Electronics Qualifying 3 (3 Laps): 1. 7G-Ollie Geiger, 11.250[3]; 2. 23-Mason Nester, 11.286[4]; 3. 14S-Sawyer Kiner, 11.344[6]; 4. 4-Jude Allgayer, 11.354[7]; 5. 14-Kamden Gossard, 11.361[1]; 6. 91-Sam Kaller, 11.381[5]; 7. 17H-Carson Holt, 11.617[2]
---
Submitted By: Bryan Hulbert
Article Media
Back to News