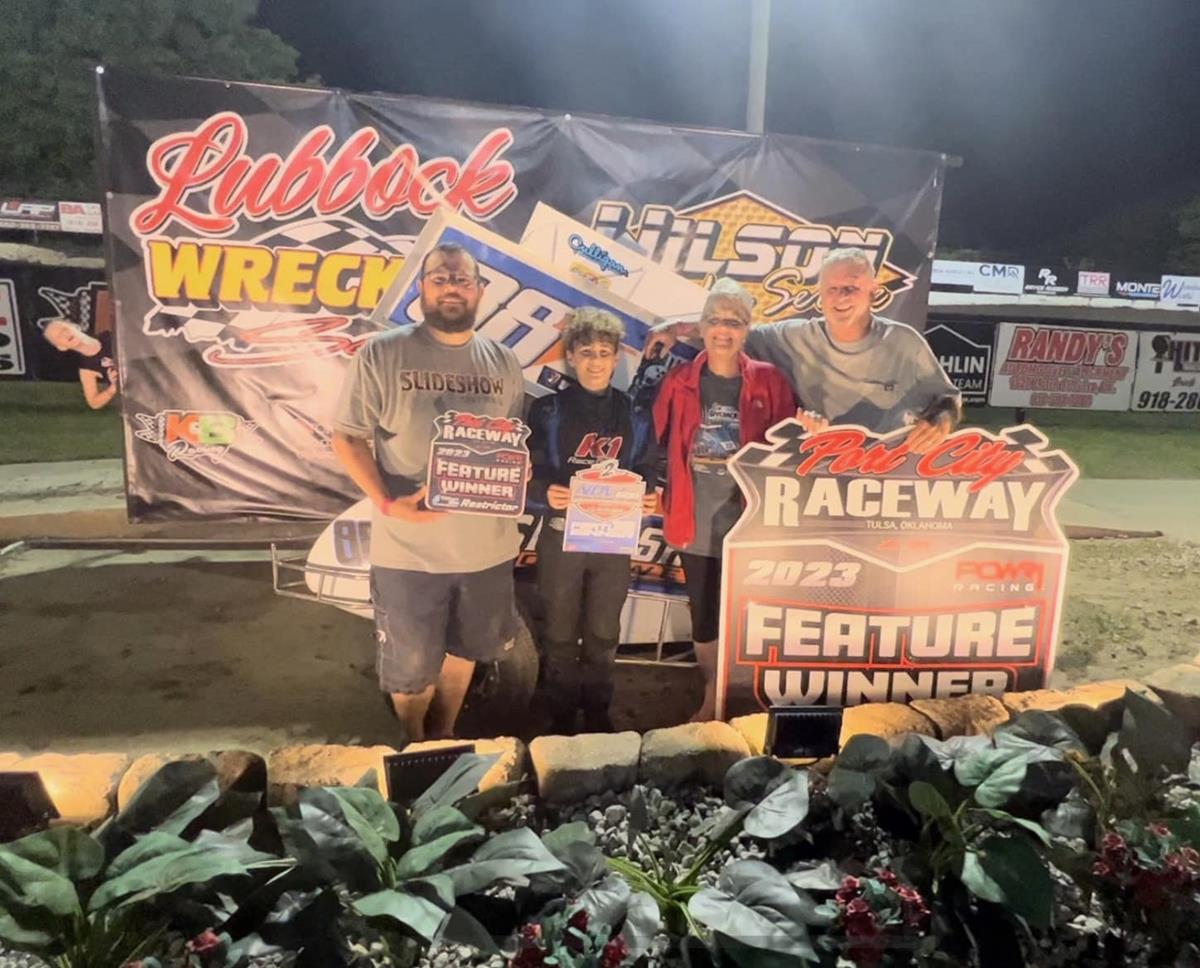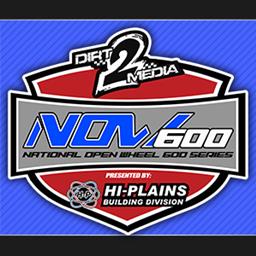 5/7/2023
NOW600 National Micros
---
Terry Walker Memorial Victories Belong To Kris Carroll, Frank Flud, and Bryce Kujath
Bryan Hulbert – TULSA, Okla. (May 6, 2023) Wrapping up the sixth annual Terry Walker Memorial Saturday night at Port City Raceway, Kris Carroll capped his night with A-Class Victory, while Frank Flud captured the Non-Wing Feature. Adding his name to the list of Restricted winners with the Dirt2Media National Open Wheel Series presented by Hi-Plains Building Division, Bryce Kujath topped Restricted.
Career win No. 3 for Carroll, the No. 36 led start-to-finish for the A-Class score. Having to fend off the hard-charging Harley Hollan with a green, white, checkered dash to the finish, Kris was able to gap Hollan by 0.769-seconds. A jaw-dropping performance from 16th, Hollan held off Garrett Benson to the finish. Bryant Woods and Ryder McCutcheon made up the top five.
A race that was anyone's guess on who would come out on top; the correct answer ended up being Frank Flud for the 57th time in wingless competition. An intense battle between Flud, Kris Carroll, Jake Rosario, and at one point Austin Saunders, the No. 82s suffered mechanical failure on Lap 13 battling with Rosario. Slide for slide, and dive for dive, the three-car battle would finally cross Flud, Carroll, and Rosario. Connor Lee ended up fourth, with Cole Roberts in fifth.
Making his car wide at the start and carrying it from there, Bryce Kujath became the 59th driver to top Restricted. A much-needed turnaround for Carson Bolden, the No. B2 crossed second, with Jett Nunley third. Garyn Howard crossed fourth with Bradley Cox on a rebound run in fifth,
Braxton Flatt was unstoppable in Junior Sprints, while Justin Simpson captured a thrilling last-lap-pass for the win in Sportsman.
The Saturday field included 134 entries in NOW600 competition and a combined 174 in the pits at Port City Raceway.
The next outing for the Dirt2Media National Open Wheel Series presented by Hi-Plains Building Division will be Sooner 600 Week, happening June 7-10 at Caney Valley Speedway, Creek County Speedway, Red Dirt Raceway, and Port City Raceway.
Fans not able to attend can see every lap live on https://www.now600.tv and http://www.dirt2media.tv.
The 2023 season marks the 11th year of competition for the National Open Wheel 600 Series. Anchored by the Dirt2Media NOW600 National Championship, the NOW600 Series comprises several regional tours and sanctioned racetracks. The NOW600 National Championship features three divisions of 600cc micro sprints at each event: Stock Non-Wing, Winged A-Class, and Restricted 'A' Class.
To keep up on everything happening with the National Open Wheel 600 Series, from the National Tour to Regional and Weekly racing lineups, log onto http://www.now600series.com and make sure to follow the tour on Facebook and Twitter (@NOW600Series).
Race Results:
Dirt2Media NOW600 Series
Port City Raceway (Tulsa, Okla.)
Saturday, May 6, 2023
Stock Non-Wing
Hi Plains Building Division A-Main (27 Laps): 1. 81-Frank Flud[7]; 2. 5K-Kris Carroll[8]; 3. 92-Jake Rosario[1]; 4. 1H-Connor Lee[5]; 5. 3-Cole Roberts[2]; 6. 08-Peter Smith[15]; 7. 68-Landon Ellis[16]; 8. 10-Brock Berreth[13]; 9. 88R-Ryder Laplante[6]; 10. 5G-Landon Graham[10]; 11. 73-Kevin Bayer[17]; 12. 24T-JJ Loss[14]; 13. 5-Ryder McCutcheon[11]; 14. 32-Trey Marcham[18]; 15. 21-Jeremy Wickham[12]; 16. 08J-Jace McIntosh[9]; 17. 36S-Darren Stewart[19]; 18. 82S-Austin Saunders[3]; 19. 59-Brody Mclaughlin[20]; 20. 1V-Johnny Boland[4]
Hoosier Racing Tire B-Main 1 (12 Laps): 1. 08-Peter Smith[2]; 2. 73-Kevin Bayer[3]; 3. 36S-Darren Stewart[5]; 4. 14-Blake Battles[7]; 5. 12C-Chase Spicola[4]; 6. 78B-Brody Wake[11]; 7. 727-Kaden Weger[8]; 8. 25J-Delaney Jost[12]; 9. 310-Chris Townsend[15]; 10. 111-Keatan Goss[10]; 11. 5P-Luke Porter[13]; 12. 128-Tyler Cook[14]; 13. 22-Jesse Pate[1]; 14. 23L-Tyler LaPointe[6]; 15. 87X-Hayden Mabe[16]; 16. 480-Cory Green[9]; 17. 7P-Devon Debrick[17]
Hoosier Racing Tire B-Main 2 (12 Laps): 1. 68-Landon Ellis[3]; 2. 32-Trey Marcham[4]; 3. 59-Brody Mclaughlin[8]; 4. 34-Colton Robinson[2]; 5. 66-Jayden Clay[7]; 6. 12B-Brandon Boggs[5]; 7. 38-Levi Henderson[13]; 8. 66AU-Kinser Claridge[9]; 9. 97-Brandon Lewis[12]; 10. 78C-Chance Cody[15]; 11. 11T-Taitum McElvany[11]; 12. 14G-Madelyn Gjerness[1]; 13. 19J-Justin Robison[6]; 14. 33-Chris Crawford[10]; 15. 9D-Degan Lelsz[14]; 16. 4-Brent Shoemaker[16]
Milestone Home Service Co Heat 1 (8 Laps): 1. 5G-Landon Graham[1]; 2. 88R-Ryder Laplante[3]; 3. 73-Kevin Bayer[2]; 4. 08-Peter Smith[4]; 5. 19J-Justin Robison[5]; 6. 480-Cory Green[6]; 7. 25J-Delaney Jost[8]; 8. 78C-Chance Cody[7]
Milestone Home Service Co Heat 2 (8 Laps): 1. 5-Ryder McCutcheon[1]; 2. 3-Cole Roberts[4]; 3. 14G-Madelyn Gjerness[3]; 4. 36S-Darren Stewart[2]; 5. 14-Blake Battles[5]; 6. 11T-Taitum McElvany[7]; 7. 97-Brandon Lewis[8]; 8. 87X-Hayden Mabe[6]
Milestone Home Service Co Heat 3 (8 Laps): 1. 82S-Austin Saunders[2]; 2. 24T-JJ Loss[1]; 3. 22-Jesse Pate[5]; 4. 34-Colton Robinson[3]; 5. 59-Brody Mclaughlin[4]; 6. 78B-Brody Wake[6]; 7. 38-Levi Henderson[7]; 8. (DNS) 4-Brent Shoemaker
Milestone Home Service Co Heat 4 (8 Laps): 1. 1V-Johnny Boland[2]; 2. 81-Frank Flud[3]; 3. 08J-Jace McIntosh[4]; 4. 12B-Brandon Boggs[1]; 5. 66-Jayden Clay[5]; 6. 111-Keatan Goss[6]; 7. 5P-Luke Porter[7]; 8. 310-Chris Townsend[8]
Milestone Home Service Co Heat 5 (8 Laps): 1. 21-Jeremy Wickham[1]; 2. 10-Brock Berreth[2]; 3. 5K-Kris Carroll[4]; 4. 12C-Chase Spicola[3]; 5. 727-Kaden Weger[5]; 6. 66AU-Kinser Claridge[6]; 7. 128-Tyler Cook[7]; 8. 9D-Degan Lelsz[8]
Milestone Home Service Co Heat 6 (8 Laps): 1. 92-Jake Rosario[3]; 2. 1H-Connor Lee[5]; 3. 68-Landon Ellis[2]; 4. 23L-Tyler LaPointe[1]; 5. 32-Trey Marcham[4]; 6. 33-Chris Crawford[6]; 7. (DNS) 7P-Devon Debrick
Performance Electronics Qualifying 1 (3 Laps): 1. 08-Peter Smith, 10.640[2]; 2. 88R-Ryder Laplante, 10.664[8]; 3. 73-Kevin Bayer, 10.668[1]; 4. 5G-Landon Graham, 10.689[6]; 5. 19J-Justin Robison, 10.747[3]; 6. 480-Cory Green, 10.793[7]; 7. 78C-Chance Cody, 11.049[4]; 8. 25J-Delaney Jost, 11.131[5]
Performance Electronics Qualifying 2 (3 Laps): 1. 3-Cole Roberts, 10.668[1]; 2. 14G-Madelyn Gjerness, 10.672[2]; 3. 36S-Darren Stewart, 10.716[8]; 4. 5-Ryder McCutcheon, 10.854[7]; 5. 14-Blake Battles, 10.874[3]; 6. 87X-Hayden Mabe, 10.926[4]; 7. 11T-Taitum McElvany, 11.068[5]; 8. 97-Brandon Lewis, 12.000[6]
Performance Electronics Qualifying 3 (3 Laps): 1. 34-Colton Robinson, 10.597[7]; 2. 82S-Austin Saunders, 10.614[2]; 3. 24T-JJ Loss, 10.686[8]; 4. 4-Brent Shoemaker, 10.721[6]; 5. 59-Brody Mclaughlin, 10.729[5]; 6. 22-Jesse Pate, 10.763[4]; 7. 78B-Brody Wake, 10.907[1]; 8. 38-Levi Henderson, 10.917[3]
Performance Electronics Qualifying 4 (3 Laps): 1. 08J-Jace McIntosh, 10.728[6]; 2. 81-Frank Flud, 10.769[5]; 3. 1V-Johnny Boland, 10.772[1]; 4. 12B-Brandon Boggs, 10.918[4]; 5. 66-Jayden Clay, 10.920[8]; 6. 111-Keatan Goss, 11.126[7]; 7. 5P-Luke Porter, 11.146[2]; 8. 310-Chris Townsend, 11.158[3]
Performance Electronics Qualifying 5 (3 Laps): 1. 5K-Kris Carroll, 10.675[3]; 2. 12C-Chase Spicola, 10.748[4]; 3. 10-Brock Berreth, 10.809[7]; 4. 21-Jeremy Wickham, 10.869[5]; 5. 727-Kaden Weger, 10.946[2]; 6. 66AU-Kinser Claridge, 11.123[6]; 7. 9D-Degan Lelsz, 11.145[1]; 8. 128-Tyler Cook, 11.308[8]
Performance Electronics Qualifying 6 (3 Laps): 1. 32-Trey Marcham, 10.857[7]; 2. 92-Jake Rosario, 10.916[4]; 3. 68-Landon Ellis, 10.962[3]; 4. 23L-Tyler LaPointe, 10.967[1]; 5. 1H-Connor Lee, 11.010[5]; 6. 33-Chris Crawford, 11.202[2]; 7. 7P-Devon Debrick, 11.659[6]
Winged A-Class
Hi Plains Building Division A-Main (27 Laps): 1. 36-Kris Carroll[2]; 2. 14H-Harley Hollan[16]; 3. 2B-Garrett Benson[3]; 4. 83-Brant Woods[6]; 5. 5-Ryder McCutcheon[8]; 6. 24T-JJ Loss[1]; 7. 3-Cole Roberts[19]; 8. 59-Brody Mclaughlin[7]; 9. 22RL-Gage Laney[13]; 10. 78C-Chance Cody[9]; 11. 12C-Chase Spicola[10]; 12. 14G-Madelyn Gjerness[11]; 13. B2-Carson Bolden[20]; 14. 52-Hayden Mabe[18]; 15. 87-Mack Leopard[15]; 16. 1H-Connor Lee[4]; 17. 81-Frank Flud[14]; 18. 33-Jett Nunley[5]; 19. 82S-Austin Saunders[17]; 20. 1V-Johnny Boland[12]
Hoosier Racing Tire B-Main 1 (12 Laps): 1. 87-Mack Leopard[1]; 2. 52-Hayden Mabe[2]; 3. 68-Landon Ellis[4]; 4. 24C-Cale Lagroon[3]; 5. 73-Kevin Bayer[6]; 6. 22-Jesse Pate[9]; 7. 27KW-Kaden Weger[7]; 8. 5G-Landon Graham[5]; 9. 9A-Hunter Hanson[8]; 10. 19J-Justin Robison[11]; 11. 5C-Cooper Miller[10]; 12. 22T-Thomas Byford[12]; 13. 480-Cory Green[13]
Hoosier Racing Tire B-Main 2 (12 Laps): 1. 14H-Harley Hollan[1]; 2. 3-Cole Roberts[6]; 3. 7C-Phillip Cordova[2]; 4. 53J-Rob Johnson[7]; 5. 25J-Delaney Jost[10]; 6. 49Z-Zak Moore[13]; 7. 00T-TJ Starck[4]; 8. 45-Bradley Cox[9]; 9. 5S-Stone Smith[12]; 10. 66AU-Kinser Claridge[3]; 11. 08-Peter Smith[5]; 12. 4S-Aubrey Jo Sappington[11]; 13. 9D-Degan Lelsz[8]
Hoosier Racing Tire B-Main 3 (12 Laps): 1. 82S-Austin Saunders[2]; 2. B2-Carson Bolden[4]; 3. 92-Jake Rosario[1]; 4. 34-Colton Robinson[3]; 5. 12B-Brandon Boggs[8]; 6. 57-Kyle Chady[5]; 7. 66-Jayden Clay[6]; 8. 23L-Tyler LaPointe[10]; 9. 5B-Cade Bierman[12]; 10. 49A-Ace Moore[9]; 11. 78B-Brody Wake[7]; 12. 77W-Chase Wright[11]
Milestone Home Service Co Heat 1 (8 Laps): 1. 81-Frank Flud[1]; 2. 59-Brody Mclaughlin[3]; 3. 12C-Chase Spicola[4]; 4. B2-Carson Bolden[2]; 5. 3-Cole Roberts[6]; 6. 9A-Hunter Hanson[7]; 7. 77W-Chase Wright[5]; 8. 22T-Thomas Byford[8]
Milestone Home Service Co Heat 2 (8 Laps): 1. 2B-Garrett Benson[3]; 2. 52-Hayden Mabe[2]; 3. 78C-Chance Cody[4]; 4. 66-Jayden Clay[1]; 5. 73-Kevin Bayer[6]; 6. 49A-Ace Moore[5]; 7. 25J-Delaney Jost[8]; 8. 5B-Cade Bierman[7]
Milestone Home Service Co Heat 3 (8 Laps): 1. 22RL-Gage Laney[1]; 2. 92-Jake Rosario[2]; 3. 33-Jett Nunley[8]; 4. 82S-Austin Saunders[4]; 5. 08-Peter Smith[3]; 6. 22-Jesse Pate[5]; 7. 19J-Justin Robison[6]; 8. 5S-Stone Smith[7]
Milestone Home Service Co Heat 4 (8 Laps): 1. 24T-JJ Loss[2]; 2. 7C-Phillip Cordova[1]; 3. 87-Mack Leopard[3]; 4. 5G-Landon Graham[4]; 5. 53J-Rob Johnson[5]; 6. 5C-Cooper Miller[6]; 7. (DNS) 480-Cory Green
Milestone Home Service Co Heat 5 (8 Laps): 1. 1V-Johnny Boland[1]; 2. 83-Brant Woods[3]; 3. 5-Ryder McCutcheon[4]; 4. 00T-TJ Starck[2]; 5. 57-Kyle Chady[6]; 6. 12B-Brandon Boggs[5]; 7. 23L-Tyler LaPointe[7]
Milestone Home Service Co Heat 6 (8 Laps): 1. 14G-Madelyn Gjerness[1]; 2. 36-Kris Carroll[4]; 3. 24C-Cale Lagroon[2]; 4. 34-Colton Robinson[3]; 5. 49Z-Zak Moore[7]; 6. 45-Bradley Cox[5]; 7. 4S-Aubrey Jo Sappington[6]
Milestone Home Service Co Heat 7 (8 Laps): 1. 1H-Connor Lee[3]; 2. 14H-Harley Hollan[2]; 3. 68-Landon Ellis[1]; 4. 66AU-Kinser Claridge[6]; 5. 27KW-Kaden Weger[5]; 6. 78B-Brody Wake[7]; 7. 9D-Degan Lelsz[4]
Performance Electronics Qualifying 1 (3 Laps): 1. 12C-Chase Spicola, 10.507[4]; 2. 59-Brody Mclaughlin, 10.693[5]; 3. B2-Carson Bolden, 10.936[8]; 4. 81-Frank Flud, 10.956[2]; 5. 77W-Chase Wright, 11.073[1]; 6. 3-Cole Roberts, 11.076[3]; 7. 9A-Hunter Hanson, 11.142[7]; 8. 22T-Thomas Byford, 11.986[6]
Performance Electronics Qualifying 2 (3 Laps): 1. 78C-Chance Cody, 10.115[5]; 2. 2B-Garrett Benson, 10.122[3]; 3. 52-Hayden Mabe, 10.328[1]; 4. 66-Jayden Clay, 10.365[2]; 5. 49A-Ace Moore, 10.377[6]; 6. 73-Kevin Bayer, 10.421[4]; 7. 5B-Cade Bierman, 10.453[7]; 8. 25J-Delaney Jost, 10.663[8]
Performance Electronics Qualifying 3 (3 Laps): 1. 82S-Austin Saunders, 09.872[6]; 2. 08-Peter Smith, 10.044[4]; 3. 92-Jake Rosario, 10.058[2]; 4. 22RL-Gage Laney, 10.111[5]; 5. 22-Jesse Pate, 10.123[3]; 6. 19J-Justin Robison, 10.183[8]; 7. 5S-Stone Smith, 10.189[1]; 8. 33-Jett Nunley, 10.210[7]
Performance Electronics Qualifying 4 (3 Laps): 1. 87-Mack Leopard, 09.821[5]; 2. 24T-JJ Loss, 09.945[1]; 3. 7C-Phillip Cordova, 10.007[2]; 4. 480-Cory Green, 10.068[3]; 5. 5G-Landon Graham, 10.165[4]; 6. 53J-Rob Johnson, 10.257[6]; 7. 5C-Cooper Miller, 10.347[7]
Performance Electronics Qualifying 5 (3 Laps): 1. 5-Ryder McCutcheon, 09.740[3]; 2. 83-Brant Woods, 09.900[7]; 3. 00T-TJ Starck, 09.963[2]; 4. 1V-Johnny Boland, 09.994[6]; 5. 12B-Brandon Boggs, 09.995[4]; 6. 57-Kyle Chady, 10.138[5]; 7. 23L-Tyler LaPointe, 10.251[1]
Performance Electronics Qualifying 6 (3 Laps): 1. 36-Kris Carroll, 09.778[7]; 2. 34-Colton Robinson, 09.837[6]; 3. 24C-Cale Lagroon, 09.923[5]; 4. 14G-Madelyn Gjerness, 09.960[1]; 5. 45-Bradley Cox, 10.240[4]; 6. 4S-Aubrey Jo Sappington, 10.421[2]; 7. (DNS) 49Z-Zak Moore, NT
Performance Electronics Qualifying 7 (3 Laps): 1. 9D-Degan Lelsz, 09.804[3]; 2. 1H-Connor Lee, 09.861[7]; 3. 14H-Harley Hollan, 09.889[5]; 4. 68-Landon Ellis, 09.893[2]; 5. 27KW-Kaden Weger, 09.908[6]; 6. 66AU-Kinser Claridge, 09.973[1]; 7. 78B-Brody Wake, 10.064[4]
Restricted 'A' Class
Hi Plains Building Division A-Main (27 Laps): 1. 88K-Bryce Kujath[1]; 2. B2-Carson Bolden[2]; 3. 33-Jett Nunley[3]; 4. GH7-Garyn Howard[7]; 5. 45-Bradley Cox[4]; 6. 5C-Cooper Miller[5]; 7. 73-Chase McDougal[15]; 8. 2T-Tyler Crow[14]; 9. 11-Mattix McBride[12]; 10. 24C-Cale Lagroon[10]; 11. 83-Dawson Woods[8]; 12. 11K-Kyle Hooper[19]; 13. 87C-Callan Hill[17]; 14. 88P-Ayden Parrish[18]; 15. 4-Jude Allgayer[9]; 16. 11H-Nicholas Harris[20]; 17. 97-Cash Lacombe[16]; 18. 3-Lathe Griggs[13]; 19. 73X-Wyatt Miller[6]; 20. 8-Jase Blevins[11]
Hoosier Racing Tire B-Main 1 (12 Laps): 1. 73-Chase McDougal[2]; 2. 87C-Callan Hill[4]; 3. 11K-Kyle Hooper[5]; 4. 88L-Landen Adams[3]; 5. 95-Ryker Morrow[6]; 6. 14R-Jaxon Nail[8]; 7. 1P-Mekentzi Potter[1]; 8. 5S-Stone Smith[11]; 9. 81L-Ethan Larsen[9]; 10. 60B-Wyatt Miller[7]; 11. 18-Tityn Roberts[10]
Hoosier Racing Tire B-Main 2 (12 Laps): 1. 97-Cash Lacombe[1]; 2. 88P-Ayden Parrish[3]; 3. 11H-Nicholas Harris[2]; 4. 31BW-Braxton Weger[6]; 5. 21E-Enzo Spicola[8]; 6. 75-Deekan McRoberts[9]; 7. K9-Sami Porter[5]; 8. 73F-Ty Fulghum[10]; 9. 88E-Emery Laplante[7]; 10. 11AZ-Annalesia Miller[4]
Milestone Home Service Co Heat 1 (3 Laps): 1. 88K-Bryce Kujath[2]; 2. 33-Jett Nunley[4]; 3. 3-Lathe Griggs[3]; 4. 88L-Landen Adams[5]; 5. 5S-Stone Smith[7]; 6. 60B-Wyatt Miller[6]; 7. 73F-Ty Fulghum[1]
Milestone Home Service Co Heat 2 (3 Laps): 1. 5C-Cooper Miller[2]; 2. 83-Dawson Woods[3]; 3. 4-Jude Allgayer[4]; 4. 1P-Mekentzi Potter[7]; 5. 31BW-Braxton Weger[1]; 6. 88E-Emery Laplante[5]; 7. 75-Deekan McRoberts[6]
Milestone Home Service Co Heat 3 (3 Laps): 1. 73X-Wyatt Miller[2]; 2. B2-Carson Bolden[4]; 3. 11H-Nicholas Harris[1]; 4. 73-Chase McDougal[3]; 5. 11AZ-Annalesia Miller[6]; 6. K9-Sami Porter[7]; 7. 18-Tityn Roberts[5]
Milestone Home Service Co Heat 4 (3 Laps): 1. GH7-Garyn Howard[2]; 2. 2T-Tyler Crow[1]; 3. 11-Mattix McBride[5]; 4. 97-Cash Lacombe[4]; 5. 87C-Callan Hill[6]; 6. 95-Ryker Morrow[3]; 7. 21E-Enzo Spicola[7]
Milestone Home Service Co Heat 5 (3 Laps): 1. 45-Bradley Cox[3]; 2. 8-Jase Blevins[2]; 3. 24C-Cale Lagroon[4]; 4. 88P-Ayden Parrish[5]; 5. 11K-Kyle Hooper[6]; 6. 14R-Jaxon Nail[1]; 7. 81L-Ethan Larsen[7]
Performance Electronics Qualifying 1 (3 Laps): 1. 33-Jett Nunley, 10.164[1]; 2. 3-Lathe Griggs, 10.259[7]; 3. 88K-Bryce Kujath, 10.317[4]; 4. 73F-Ty Fulghum, 10.399[6]; 5. 88L-Landen Adams, 10.573[5]; 6. 60B-Wyatt Miller, 11.046[2]; 7. (DNS) 5S-Stone Smith, NT
Performance Electronics Qualifying 2 (3 Laps): 1. 4-Jude Allgayer, 10.271[5]; 2. 83-Dawson Woods, 10.334[3]; 3. 5C-Cooper Miller, 10.349[2]; 4. 31BW-Braxton Weger, 10.472[6]; 5. 88E-Emery Laplante, 10.505[7]; 6. 75-Deekan McRoberts, 10.643[1]; 7. 1P-Mekentzi Potter, NT
Performance Electronics Qualifying 3 (3 Laps): 1. B2-Carson Bolden, 10.369[7]; 2. 73-Chase McDougal, 10.419[5]; 3. 73X-Wyatt Miller, 10.478[1]; 4. 11H-Nicholas Harris, 10.553[4]; 5. 18-Tityn Roberts, 10.735[6]; 6. 11AZ-Annalesia Miller, 10.758[3]; 7. K9-Sami Porter, 10.823[2]
Performance Electronics Qualifying 4 (3 Laps): 1. 97-Cash Lacombe, 10.430[3]; 2. 95-Ryker Morrow, 10.447[1]; 3. GH7-Garyn Howard, 10.544[4]; 4. 2T-Tyler Crow, 10.556[5]; 5. 11-Mattix McBride, 10.649[7]; 6. 87C-Callan Hill, 10.708[6]; 7. 21E-Enzo Spicola, 10.719[2]
Performance Electronics Qualifying 5 (3 Laps): 1. 24C-Cale Lagroon, 10.295[2]; 2. 45-Bradley Cox, 10.426[6]; 3. 8-Jase Blevins, 10.521[4]; 4. 14R-Jaxon Nail, 10.523[3]; 5. 88P-Ayden Parrish, 10.701[5]; 6. 11K-Kyle Hooper, 10.884[1]; 7. 81L-Ethan Larsen, 10.927[7]
---
Submitted By: Bryan Hulbert
Back to News