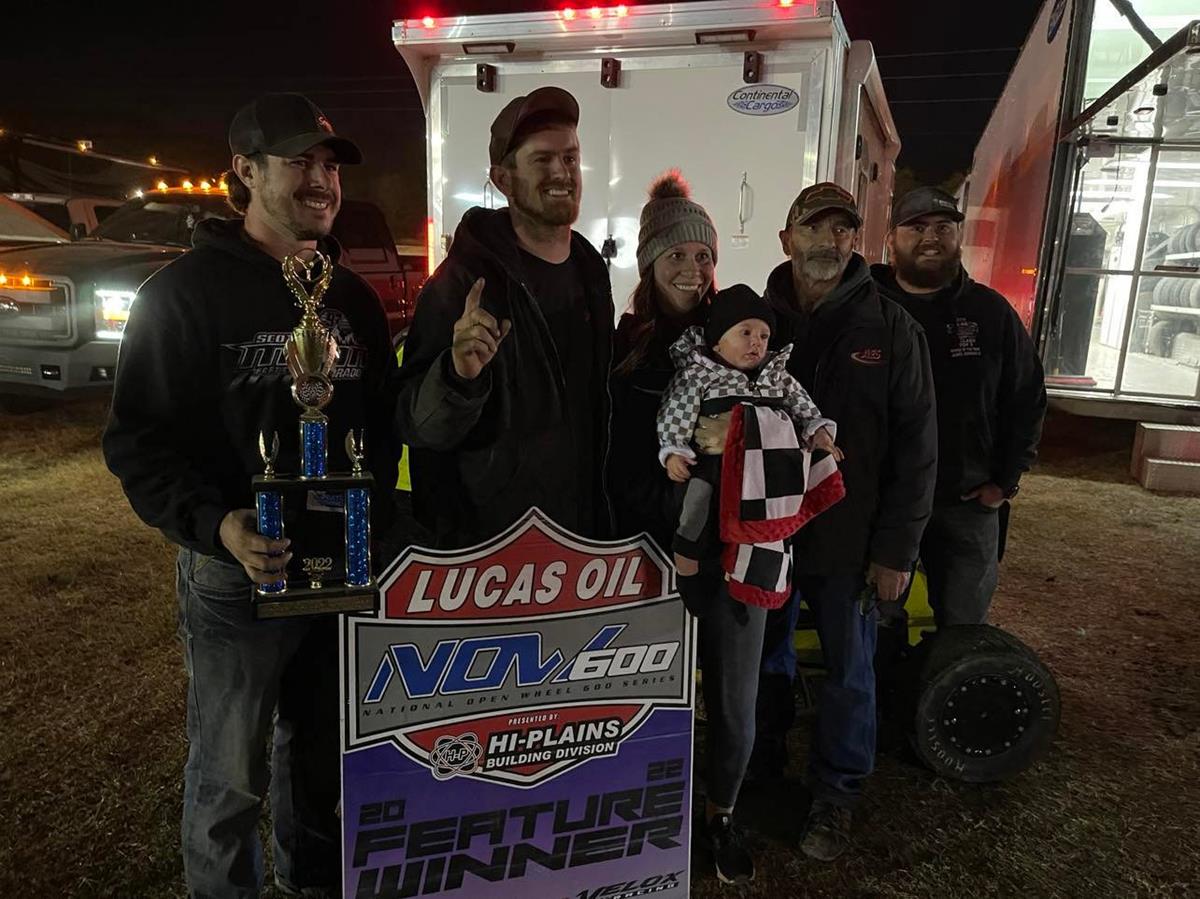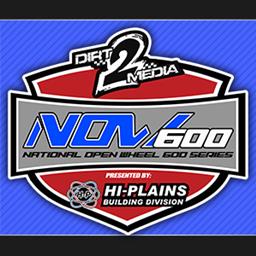 10/9/2022
NOW600 National Micros
---
Lucas Oil NOW600 Bordertown Throwdown Finale Goes To Flud And Bolden
(Image Credit: Kristy McDougal)
Bryan Hulbert – CANEY, Kan. (October 8, 2022) Wrapping up the Bordertown Throwdown Saturday night at Caney Valley Speedway, Frank Flud swept stock competition while Carson Bolden made it a two-win weekend with the Lucas Oil National Open Wheel Series presented by Hi-Plains Building Division.
Win No. 69 in A-Class, Flud took off from the right of the front row and outran J.J. Loss for the win. Giving the No. 81 a couple of taps to the bumper on a Lap 12 restart, that was as close as Loss would get as Flud ran away by 1.488-seconds. Colton Robinson crossed third, with Keegan Osantowski fourth. Up from eighth, Alex Karpowicz made it to fifth.
A weekend sweep in Non-Wing, Flud's 56th wingless win likewise came from the top of the front row. A dominating performance, the gap at the finish was 4.027-seconds over Keegan Osantowski. Third went to Alex Karpowicz, with J.J. Loss rolling 11th to fourth. Fredric Fezard completed the top five.
Slated to start third in Restricted, two false starts moved the No. 2b of Carson Bolden to the point, and he took full advantage of it. Chased by Jett Nunley, the driver docked for the false start, the No. 33 in second was followed by Garyn Howard. Jace Wren, Landon Jesina, and Dale Johnston made up the field.
The Lucas Oil National Open Wheel Series presented by Hi-Plains Building Division will be part of the Keith Kunz Giveback Classic at Port City Raceway, happening Thursday, October 20 through Saturday, October 22, with the Restricted division running under the NOW600 banner. The event will be preceded by practice on Wednesday, October 19. The event includes Outlaw Non-Wing and Junior Sprints. Information on the event is available at http://www.powri.com/kkmgiveback.
To keep up on everything happening with the National Open Wheel 600 Series, from the National Tour to Regional and Weekly racing lineups, log onto http://www.now600series.com and make sure to follow the tour on Facebook and Twitter (@NOW600Series).
Race Results:
Lucas Oil NOW600 Series
Caney Valley Speedway (Caney, Kan.)
Saturday, October 8, 2022
Stock Non-Wing
Hi Plains Building Division A-Main (20 Laps): 1. 81-Frank Flud[2]; 2. 21-Keegan Osantowski[1]; 3. 72-Alex Karpowicz[4]; 4. 67J-JJ Loss[11]; 5. 28P-Frederic Fezard[5]; 6. 5G-Landon Graham[8]; 7. 38-Riley Osantowski[6]; 8. 33-Kelby Wright[7]; 9. 21C-Carter Holt[12]; 10. 31-Colton Robinson[3]; 11. 4DG-Brent Shoemaker[10]; 12. 40G-Jason Gariss[9]
Velox Racing Heat 1 (8 Laps): 1. 31-Colton Robinson[2]; 2. 81-Frank Flud[4]; 3. 28P-Frederic Fezard[1]; 4. 5G-Landon Graham[3]; 5. 4DG-Brent Shoemaker[5]; 6. 21C-Carter Holt[6]
Velox Racing Heat 2 (8 Laps): 1. 21-Keegan Osantowski[2]; 2. 72-Alex Karpowicz[3]; 3. 38-Riley Osantowski[1]; 4. 33-Kelby Wright[5]; 5. 40G-Jason Gariss[4]; 6. 67J-JJ Loss[6]
Performance Electronics Qualifying 1 (3 Laps): 1. 81-Frank Flud, 14.284[5]; 2. 28P-Frederic Fezard, 14.719[1]; 3. 31-Colton Robinson, 14.754[3]; 4. 21C-Carter Holt, 14.800[2]; 5. 5G-Landon Graham, 14.877[4]; 6. 4DG-Brent Shoemaker, 15.834[6]
Performance Electronics Qualifying 2 (3 Laps): 1. 21-Keegan Osantowski, 14.411[1]; 2. 72-Alex Karpowicz, 14.423[4]; 3. 67J-JJ Loss, 14.642[2]; 4. 38-Riley Osantowski, 14.761[5]; 5. 33-Kelby Wright, 15.360[6]; 6. 40G-Jason Gariss, 15.753[3]
Winged A-Class
Hi Plains Building Division A-Main (20 Laps): 1. 81-Frank Flud[2]; 2. 67J-JJ Loss[1]; 3. 31-Colton Robinson[4]; 4. 21-Keegan Osantowski[3]; 5. 72-Alex Karpowicz[8]; 6. 5G-Landon Graham[9]; 7. 11D-Dominic White[5]; 8. 21C-Carter Holt[11]; 9. 78C-Chance Cody[12]; 10. 7A-Aaron Jesina[6]; 11. 38-Riley Osantowski[10]; 12. 40G-Jason Gariss[7]
Velox Racing Heat 1 (8 Laps): 1. 67J-JJ Loss[4]; 2. 21-Keegan Osantowski[2]; 3. 11D-Dominic White[3]; 4. 38-Riley Osantowski[1]; 5. 5G-Landon Graham[6]; 6. 78C-Chance Cody[5]
Velox Racing Heat 2 (8 Laps): 1. 81-Frank Flud[1]; 2. 31-Colton Robinson[2]; 3. 7A-Aaron Jesina[3]; 4. 40G-Jason Gariss[5]; 5. 72-Alex Karpowicz[4]; 6. 21C-Carter Holt[6]
Performance Electronics Qualifying 1 (3 Laps): 1. 67J-JJ Loss, 14.111[3]; 2. 11D-Dominic White, 14.115[4]; 3. 21-Keegan Osantowski, 14.118[1]; 4. 38-Riley Osantowski, 14.232[2]; 5. 78C-Chance Cody, 14.566[5]; 6. 5G-Landon Graham, 14.603[6]
Performance Electronics Qualifying 2 (3 Laps): 1. 72-Alex Karpowicz, 14.034[1]; 2. 81-Frank Flud, 14.183[3]; 3. 31-Colton Robinson, 14.363[2]; 4. 21C-Carter Holt, 14.624[5]; 5. 7A-Aaron Jesina, 14.863[6]; 6. 40G-Jason Gariss, 14.863[4]
Restricted 'A' Class
Hi Plains Building Division A-Main (15 Laps): 1. B2-Carson Bolden[3]; 2. 33-Jett Nunley[1]; 3. GH7-Garyn Howard[2]; 4. 23J-Jace Wren[5]; 5. 5L-Landon Jesina[4]; 6. 555-Dale Johnston[6]
Velox Racing Heat 1 (8 Laps): 1. 33-Jett Nunley[4]; 2. GH7-Garyn Howard[3]; 3. B2-Carson Bolden[2]; 4. 5L-Landon Jesina[6]; 5. 23J-Jace Wren[1]; 6. 555-Dale Johnston[5]
Performance Electronics Qualifying 1 (3 Laps): 1. 33-Jett Nunley, 15.026[4]; 2. GH7-Garyn Howard, 15.221[1]; 3. B2-Carson Bolden, 15.357[5]; 4. 23J-Jace Wren, 15.740[3]; 5. 555-Dale Johnston, 15.931; 6. 5L-Landon Jesina, 15.965[2]
---
Submitted By: Bryan Hulbert
Back to News