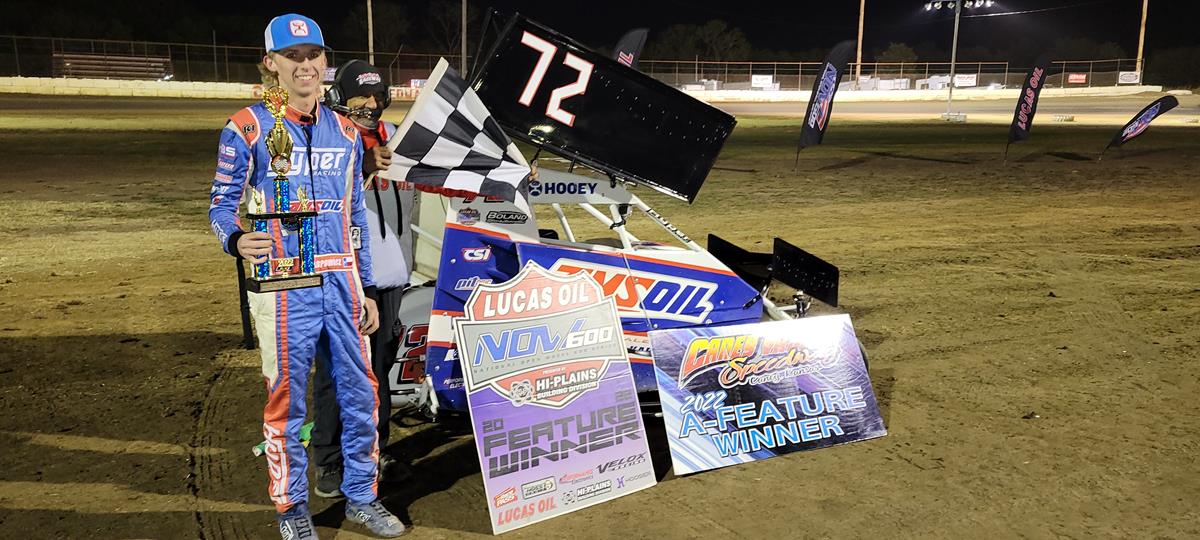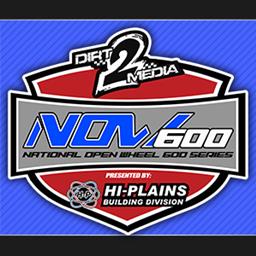 10/8/2022
NOW600 National Micros
---
Alex Karpowicz, Frank Flud, and Carson Bolden Take Bordertown Throwdown Prelim Wins With The Lucas Oil NOW600 Series
Bryan Hulbert – CANEY, Kan. (October 7, 2022) Opening the Bordertown Throwdown Friday night, the Lucas Oil National Open Wheel Series presented by Hi-Plains Building Division had 32 entries on hand at Caney Valley Speedway with wins going to Alex Karpowicz, Frank Flud, and Carson Bolden.
Leading start to finish for his first National A-Class triumph, Alex Karpowicz held off numerous challenges from J.J. Loss for the Friday night win.
Both times having to motor around the highline as Loss struck a nose in on the Amsoil No. 72; the final attempt by the No. 67j saw Alex get the elbows up even further to win by 1.746-seconds. Loss in second was followed by Dominic White, with Keegan Osantowski taking fourth on the closing lap, followed by Austin Saunders in fifth.
Collecting his 55th career Stock Non-Wing win, Frank Flud was forced to do so from the back of the field after the engine expired while Qualifying for A-Class. Rolling from 11th, Flud worked the hub of the Caney Valley Speedway to the runner-up spot on Lap 7.
Stalking race-long-leader J.J. Loss, the RUJO No. 81 closed to his back bumper in no time. Keeping the bottom of the track locked down, Flud switched tactics through the third and fourth turns on Lap 11 with a high-side pass for the lead.
Making it to the line with 2.044-seconds to spare, the race for second came down to the final 25 feet as Keegan Osantowski, who was in a caution at the start of the race, charged through the field to grab second. J.J. Loss, third, was followed by Austin Saunders and Alex Karpowicz to complete the top five.
Adding a second win to his name in Restricted, Carson Bolden kept pace over Jett Nunley. Third went to Garyn Howard, with Bryce Kujath and Jace Wren in fifth.
The Bordertown Throwdown continues at Caney Valley Speedway on Saturday, October 8. Pits will clear at 2:00 P.M. with Hot Laps at 5:00 P.M. and Racing at 6:00 P.M. (CDT).
Tickets are $10 for adults, $5 for seniors, and free for kids 12 and under. Pit Passes are $30, and drivers must purchase one pit pass for every class they enter. Caney Valley Speedway is located at CR 1300 in Caney, Kan. More info on the Speedway can be found at http://www.caneyvalleyspeedway.net or by calling the track at (620) 330-0485.
Fans not able to attend can see every lap live on https://www.now600.tv.
To keep up on everything happening with the National Open Wheel 600 Series, from the National Tour to Regional and Weekly racing lineups, log onto http://www.now600series.com and make sure to follow the tour on Facebook and Twitter (@NOW600Series).
Race Results:
Lucas Oil NOW600 Series
Caney Valley Speedway (Caney, Kan.)
Friday, October 7, 2022
Stock Non-Wing
Hi Plains Building Division A-Main (20 Laps): 1. 81-Frank Flud[11]; 2. 21-Keegan Osantowski[3]; 3. 67J-JJ Loss[1]; 4. 82S-Austin Saunders[2]; 5. 72-Alex Karpowicz[4]; 6. 28P-Frederic Fezard[5]; 7. 31-Colton Robinson[6]; 8. 5G-Landon Graham[10]; 9. 66-Jayden Clay[8]; 10. 21C-Carter Holt[9]; 11. 40-Jason Gariss[12]; 12. 33-Kelby Wright[7]
Velox Racing Heat 1 (8 Laps): 1. 67J-JJ Loss[4]; 2. 72-Alex Karpowicz[3]; 3. 28P-Frederic Fezard[1]; 4. 33-Kelby Wright[5]; 5. 5G-Landon Graham[2]; 6. 81-Frank Flud[6]
Velox Racing Heat 2 (8 Laps): 1. 82S-Austin Saunders[3]; 2. 21-Keegan Osantowski[4]; 3. 31-Colton Robinson[1]; 4. 66-Jayden Clay[2]; 5. 21C-Carter Holt[5]; 6. 40-Jason Gariss[6]
Performance Electronics Qualifying 1 (3 Laps): 1. 67J-JJ Loss, 14.900[2]; 2. 72-Alex Karpowicz, 14.960[5]; 3. 5G-Landon Graham, 15.204[4]; 4. 28P-Frederic Fezard, 15.387[6]; 5. 33-Kelby Wright, 15.542[1]; 6. 81-Frank Flud, NT
Performance Electronics Qualifying 2 (3 Laps): 1. 21-Keegan Osantowski, 14.998[3]; 2. 82S-Austin Saunders, 15.086[1]; 3. 66-Jayden Clay, 15.147[5]; 4. 31-Colton Robinson, 15.416[4]; 5. 21C-Carter Holt, 15.694[2]; 6. 40-Jason Gariss, NT
Winged A-Class
Hi Plains Building Division A-Main (20 Laps): 1. 72-Alex Karpowicz[1]; 2. 67J-JJ Loss[3]; 3. 11D-Dominic White[2]; 4. 21-Keegan Osantowski[5]; 5. 82S-Austin Saunders[4]; 6. 81-Frank Flud[10]; 7. 31-Colton Robinson[7]; 8. 5G-Landon Graham[6]; 9. 7A-Aaron Jesina[8]; 10. 66-Jayden Clay[12]; 11. 40-Jason Gariss[13]; 12. 21C-Carter Holt[11]; 13. 78C-Chance Cody[9]
Velox Racing Heat 1 (8 Laps): 1. 67J-JJ Loss[2]; 2. 11D-Dominic White[4]; 3. 82S-Austin Saunders[3]; 4. 31-Colton Robinson[5]; 5. 21C-Carter Holt[1]; 6. 66-Jayden Clay[6]; 7. 40-Jason Gariss[7]
Velox Racing Heat 2 (8 Laps): 1. 72-Alex Karpowicz[2]; 2. 5G-Landon Graham[1]; 3. 21-Keegan Osantowski[3]; 4. 7A-Aaron Jesina[5]; 5. 78C-Chance Cody[4]; 6. 81-Frank Flud[6]
Performance Electronics Qualifying 1 (3 Laps): 1. 11D-Dominic White, 14.052[4]; 2. 82S-Austin Saunders, 14.126[1]; 3. 67J-JJ Loss, 14.248[7]; 4. 21C-Carter Holt, 14.463[5]; 5. 31-Colton Robinson, 14.595[3]; 6. 66-Jayden Clay, 14.646[6]; 7. 40-Jason Gariss, 14.646[2]
Performance Electronics Qualifying 2 (3 Laps): 1. 72-Alex Karpowicz, 14.153[6]; 2. 21-Keegan Osantowski, 14.154[4]; 3. 81-Frank Flud, 14.171[2]; 4. 5G-Landon Graham, 14.739[5]; 5. 7A-Aaron Jesina, 15.105[1]; 6. 78C-Chance Cody, 15.657[3]
Restricted 'A' Class
Hi Plains Building Division A-Main (20 Laps): 1. B2-Carson Bolden[1]; 2. 33-Jett Nunley[2]; 3. GH7-Garyn Howard[3]; 4. 88K-Bryce Kujath[5]; 5. 23J-Jace Wren[7]; 6. 14K-Kyle Hooper[4]; 7. 5L-Landon Jesina[6]
Velox Racing Heat 1 (8 Laps): 1. 33-Jett Nunley[2]; 2. B2-Carson Bolden[4]; 3. GH7-Garyn Howard[3]; 4. 14K-Kyle Hooper[1]; 5. 88K-Bryce Kujath[5]; 6. 5L-Landon Jesina[7]; 7. 23J-Jace Wren[6]
Performance Electronics Qualifying 1 (3 Laps): 1. B2-Carson Bolden, 15.105[3]; 2. GH7-Garyn Howard, 15.157[2]; 3. 33-Jett Nunley, 15.164[5]; 4. 14K-Kyle Hooper, 15.397[4]; 5. 88K-Bryce Kujath, 15.398[1]; 6. 23J-Jace Wren, 15.530[6]; 7. 5L-Landon Jesina, 15.752[7]
---
Submitted By: Bryan Hulbert
Article Media
Back to News