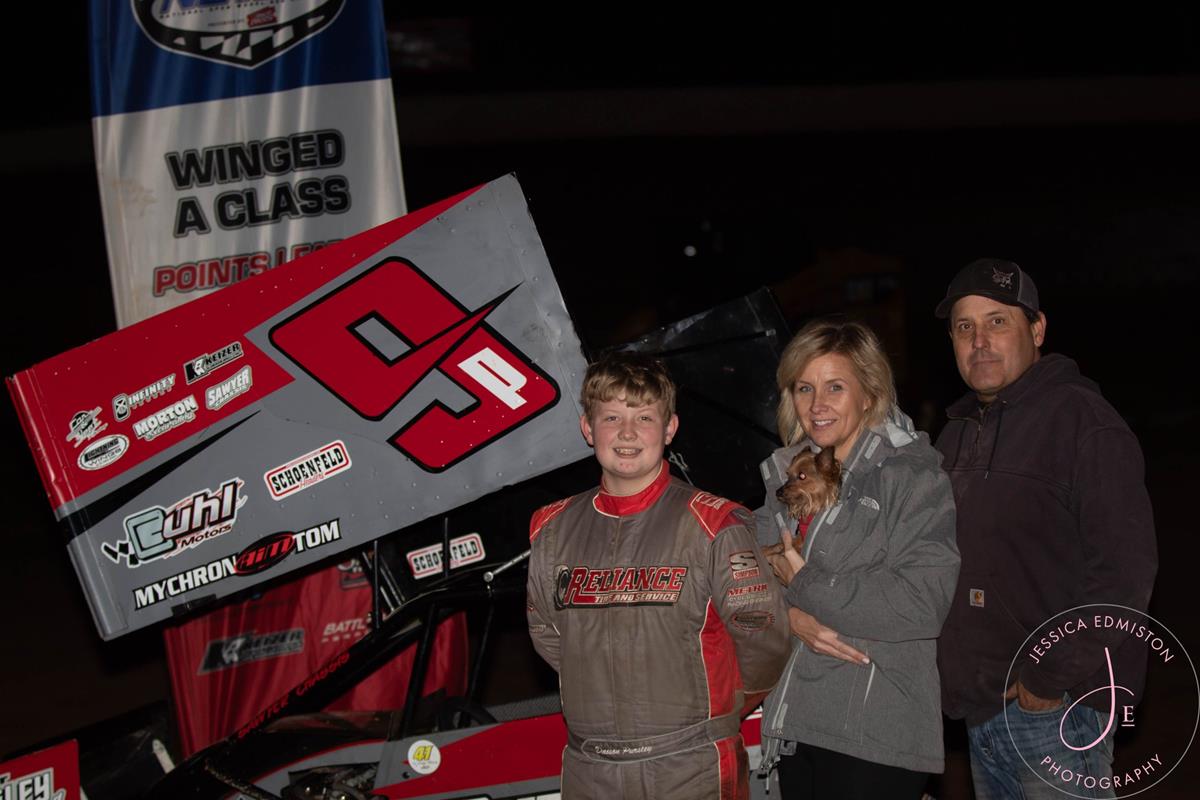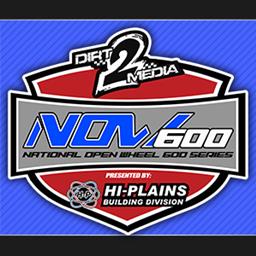 12/18/2018
NOW600 National Micros
---
Daison Pursley Claims Third Consecutive Lucas Oil NOW600 National Championship
Photo Credit: Jessica Edminston
DRUMRIGHT, Okla. (December 18, 2018) - Daison Pursley of Locust Grove, Oklahoma clinched his third consecutive Lucas Oil NOW600 National Championship during the 2018 season and first in the Winged A-Class division.
Pursley was previously the first back-to-back Restricted 'A' Class National Champion and after moving up to the Winged A-Class and Stock Non-Wing division in 2018, he went on to back-to-back-to-back championships adding the Winged A-Class division to his resume.
During the 2018 chase, Daison picked up three A-Main victories in the Winged A-Class division. He also racked up 14- Top 5's, 20- Top 10's and starting in all 23 feature events.
In Stock Non-Wing competition, Daison was the runner up in championship standings ending the season with a pair of A-Main wins. 8- Top 5's and 12- Top 10's out of all 23 events.
Pursley will officially be crowned the 2018 champion on Saturday, December 29 during the NOW600 Banquet at the Turn 5 Lounge at Port City Raceway in Tulsa, Oklahoma.
Daison and Pursley Motorsports are looking to become the first driver in Lucas Oil NOW600 Series action to pick up a championship in all three classes as the Stock Non-Wing Championship is the goal in 2019. Congratulations to 2018 Winged A-Class NOW600 Lucas Oil National Champion, Daison Pursley!
UP NEXT: 12/29: 2018 NOW600 Banquet - Turn 5 Lounge - Port City Raceway - Tulsa, Oklahoma.
NOW600 SERIES –
The National Open Wheel 600 Series is in its sixth year of showcasing premier micro sprint racing throughout the country. In addition to the Lucas Oil NOW600 National Micro Series presented by MyRacePass, there are five regions – the NOW600 North Texas Region, the NOW600 Desert Region, the NOW600 Mile High Micro Sprints, the NOW600 Mountain West Region and the NOW600 Northeast Region. The featured racing divisions are Stock Non-Wing, Winged 'A' Class and Restricted 'A' Class. For more information, including the schedule, points and rules, visit http://www.NOW600Series.com.
LUCAS OIL –
Lucas Oil Products produces a premium line of oils, greases and problem-solving additives for the consumer automotive industry and also a heavy duty line of products for the industrial and agricultural markets. For more information, visit http://www.LucasOil.com.
TEL-STAR TECHNOLOGIES –
Native American Owned and Operated, Tel-Star Technologies has been established since 2000. We have assembled an industry leading team of professional engineers, project managers, programmers, technicians and back office staff. Our mission is to provide the highest level of technology while ensuring simplicity, reliability and aesthetics!
Tel-Star Technologies was founded by Mike and Megan Eubanks. Mike worked in telecommunications for one of the largest Local Exchange Carriers while Megan was a logistics specialists with the Postal Service. They had a dream to create a company that would provide high quality technology at a fair price while creating a company that people loved to work at and buy from. Our employees are the backbone of our organization. Everything starts with our dedicated Team! With an employee first attitude, we have created a Team of professionals that enjoy their job and love to satisfy our customers! Our goal is to provide the highest quality Technology to all of our Customers at a fair price, while maintaining a great work place and sustaining a fair profit margin to continue to strengthen Tel-Star Technologies!
MYRACEPASS –
There are so many aspects of running a successful race team outside of what you do on the track. It's what you do off the track that draws the attention you need to help with your team's recognition throughout the sport. A website is a very useful tool to keep your sponsors and marketing partners up to date with your racing. With our PRO website packages, you have the ability to track the impressions and clicks your sponsor logos receive while being on your website. You can use that as a tool to show your current marketing partners the benefits of being involved with your race team – solely on the website. You can also use those same tools to help generate new, long-lasting marketing partnerships. On top of that, a website is a great database for your career and with the power of your information gets spread throughout that entire fast-growing network of websites.
For more information about MyRacePass, be sure to check them out online at http://www.myracepass.com. For instant updates on products/promotions and contests, be sure to follow them on Facebook at http://www.facebook.com/myracepass and on Twitter, http://www.twitter.com/myracepass.
INSIDE LINE PROMOTIONS –
Inside Line Promotions specializes in affordable public relations and media management for motor sports drivers, teams, sponsors, tracks, series, events, organizations and manufacturers. ILP Founder Shawn Miller leverages professional journalism with new media technologies and social networking to improve your exposure and the return on investment for your sponsors.
To meet the media relations needs of your program by joining Team ILP, contact Shawn at 541-510-3663 or Shawn@InsideLinePromotions.com. For more information on Inside Line Promotions, visit http://www.InsideLinePromotions.com.
---
Submitted By: Terry Mattox
Back to News