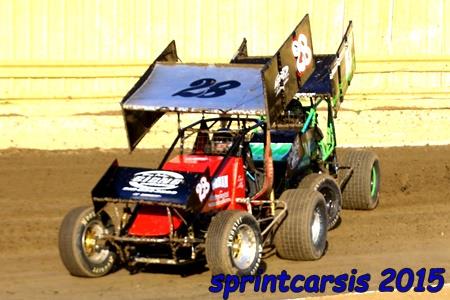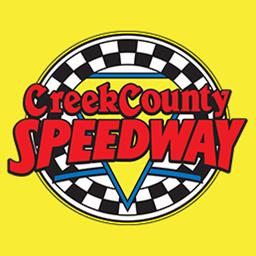 12/18/2015
Creek County Speedway
---
Creek County Speedway Gears Up for 31st Season of Competition in 2016
Terry Mattox – SAPULPA, Okla. (December 18, 2016) – Officials with the Creek County Speedway have released their tentative 2016 season schedule.
Headlining the schedule will be the fourth year of competition of the Fast Five Weekly Series featuring the Winged Champ Sprint, Modified, Dwarf Car, Factory Stock and Mini Stock classes starting on Saturday, March 26 and running through Saturday, September 3. Play Days are set for the first three Saturday's in March.
The American Bank of Okla. ASCS Red River Region presented by Smiley's Racing Products will return back on three Friday night occasions. Those Friday night appearances will take place on April 8, May 20 and July 8.
The fourth annual Randy Wheeler Memorial will be on Friday, May 27, 2016 featuring the Fast Five Weekly Series Double Points action.
Midgets will also return to the Creek County Speedway on two occasions in 2016 sanctioned by the Lucas Oil POWRi West Midget Series. The POWRi West Midgets will plan their attack on the Quick Quarter on Friday, June 3 and Thursday, August 18.
The Lucas Oil ASCS National Sprint Cars will return for a special Thursday night appearance during the Sizzlin Summer Speedweek on June 16.
USAC Southwest Sprint Cars will make their fourth appearance atop the ¼ mile oval on Thursday, August 18 during their annual "Freedom Tour."
Champ Sprints will take their wings off on Saturday, September 10 for the 2nd Annual Iron Man 50. More details will be released on this event closer to event time.
NOW600 Micro Sprints will also see action on the Creek County Speedway those dates are April 8 (A-Class); May 20 (TBA); June 3 (Non-Wing); June 16 (Non-Wing); July 8 (TBA); August 18 (Non-Wing.)
Steve Gran will once again head up operations at the Creek County Speedway for the fourth consecutive season.
2016 marks the 31st consecutive season of racing at the Creek County Speedway which opened its doors in 1985.
For more information log onto http://www.creekcountyspeedway.co and Like Us on Facebook athttp://www.facebook.com/CreekCountySpeedway.
2016 Creek County Speedway Schedule of Events
3/5/2016: Play Day
3/12/2016: Play Day
3/19/2016: Play Day
3/26/2016: First Points Race of 2016 / Fast Five Weekly Series
4/2/2016: Fast Five Weekly Series Points Race
4/8/2016: ASCS Red River Region Sprint Cars / NOW600 A-Class Micros
4/9/2016: Fast Five Weekly Series Points Race
4/16/2016: Fast Five Weekly Series Points Race
4/23/2016: Fast Five Weekly Series Points Race
4/30/2016: Fast Five Weekly Series Points Race
5/7/2016: Fast Five Weekly Series Points Race
5/14/2016: Fast Five Weekly Series Points Race
5/20/2016: ASCS Red River Region Sprint Cars / NOW600 Micros
5/21/2016: Fast Five Weekly Series Points Race
5/27/2016: 4th Annual Randy Wheeler Memorial – DOUBLE POINTS! – Fast Five Weekly Series
6/3/2016: Lucas Oil POWRi West Midgets / Non-Wing Champ Sprints / NOW600 Non-Wing Micros
6/4/2016: Fast Five Weekly Series Points Race
6/11/2016: Fast Five Weekly Series Points Race
6/16/2016: Lucas Oil ASCS National Sprint Cars / NOW600 Non-Wing Micros
6/18/2016: Fast Five Weekly Series Points Race
6/25/2016: Fast Five Weekly Series Points Race
7/2/2016: OFF NO RACING / Mid-Season Break!
7/8/2016: ASCS Red River Region Sprint Cars / NOW600 Micros
7/9/2016: Fast Five Weekly Series Points Race
7/16/2016: Fast Five Weekly Series Points Race
7/23/2016: Fast Five Weekly Series Points Race
7/30/2016: Fast Five Weekly Series Points Race
8/6/2016: Fast Five Weekly Series Points Race
8/13/2016: Fast Five Weekly Series Points Race
8/18/2016: USAC Southwest Sprint Cars / Lucas Oil POWRi West Midgets / NOW600 Non-Wing Micros
8/20/2016: Fast Five Weekly Series Points Race
8/27/2016: Fast Five Weekly Series Points Race
9/3/2016: Last Points Race of 2016 – Fast Five Weekly Series
9/10/2016: NW Champ Sprint Iron Man 50 / Support Classes TBA
---
Submitted By: Terry Mattox
Back to News