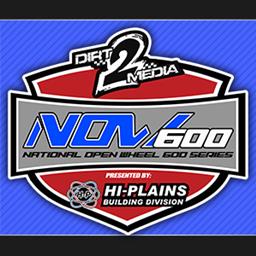 9/22/2015
NOW600 National Micros
---
NOW600 Announces Regional and National Series for 2016
(Photo Credit: Mike Spivey)
DRUMRIGHT, Okla. (September 22, 2015) – With the 2015 season coming to a close the National Open Wheel 600 Series presented by MyRacePass.com has announced that the series will divide into two regions, as well as a national series for the 2016 season.
Following the announcement by the Texas Open Wheel Racing Series that they will no longer be sanctioning micro racing in 2016, NOW600 Series Officials went to work on a way to expand the series in Texas and pick up where TOWR left off.
The Regions: NOW600 Sooner Region will cover the "Sooner" state of Oklahoma and the NOW600 North Texas Region will cover northern Texas.
Regional Points: The Regional points will be awarded during National shows that are in that region.
Each race will count towards the NOW600 Micro Series National Championship, while also counting towards regional championships as well for drivers that cannot run the full National schedule.
The National Tour: The NOW600 National Series will be racing the full schedule as the series has been doing since the series was born in 2013. The National Series will compete in Oklahoma and North Texas in 2016 as no Sooner or North Texas dates will not be scheduled on top of each other.
For more information on how the regions and national series work you can contact promoter, Terry Mattox at 918-417-0624 or by e-mail at ascsterry@gmail.com
Sponsorships are now available for the 2016 season by calling or e-mailing, Terry Mattox.
The 2016 season will mark the fourth season of sanctioning micro sprint car racing for the National Open Wheel 600 Series.
---
Submitted By: Terry Mattox
Back to News