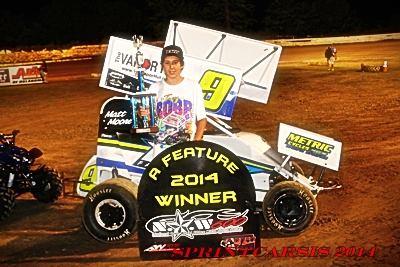 8/15/2014
Inside Line Promotions
---
Dodson and Moore Record NOW600 Feature Wins at Creek County
Inside Line Promotions – SAPULPA, Okla. (Aug. 15, 2014) – Cord Dodson and Matt Moore each picked up a NOW600 Series feature victory on Thursday at Creek County Speedway.
Dodson charged from fifth to score his first career NOW600 triumph in the Non-Wing class. He is also the sixth different driver to win during the eight main events this season.
Frank Flud advanced from third to second place and polesitter Brad Best, who won a heat race along with Dodson, finished third. Dylan Ward maneuvered from sixth to fourth place and Kyle Keeler drove from seventh to fifth place.
In NOW600 Restrictor action, Moore earned his series-leading third feature win of the season after starting third. He also won a heat race, along with Jace McIntosh.
Ryan Hunt powered from fifth place to a runner-up finish in the feature and Cannon McIntosh rounded out the podium after starting fourth. Eighth-place starting Jace McIntosh ended fourth and points leader Cole Roberts recorded a fifth-place result.
The NOW600 A-Class will join the Non-Wing and Restrictor classes on Friday at Outlaw Motorsports Park in Wainwright, Okla.
CREEK COUNTY SPEEDWAY RESULTS –
NOW600 Non-Wing
HEAT 1 – 1, Cord Dodson. 2, Jason Collins. 3, Kyle Keeler. 4, Earl McDoulett Jr. 5, Troy Minton. 6, Caleb Thompson. 7, Hunter Fischer.
HEAT 2 – 1, Brad Best. 2, Frank Flud. 3, Dylan Ward. 4, Bailey Felkins. 5, Garrett Olson. 6, Curtis Jones.
A FEATURE – 1, Cord Dodson. 2, Frank Flud. 3, Brad Best. 4, Dylan Ward. 5, Kyle Keeler. 6, Jason Collins. 7, Bailey Felkins. 8, Curtis Jones. 9, Garrett Olson. 10, Troy Minton. 11, Earl McDoulett Jr. 12, Caleb Thompson. 13, Hunter Fischer.
NOW600 Restrictor
HEAT 1 – 1, Matt Moore. 2, Cole Roberts. 3, Alison Slaton. 4, Ryan Hunt. 5, Cody Freeman. 6, Garrett Bias.
HEAT 2 – 1, Jace McIntosh. 2, Cannon McIntosh. 3, Trent Griggs. 4, Hunter McWhirt.5, Kelsey Gray. 6, Kyle Thompson.
A FEATURE – 1, Matt Moore. 2, Ryan Hunt. 3, Cannon McIntosh. 4, Jace McIntosh. 5, Cole Roberts. 6, Alison Slaton. 7, Kelsey Gray. 8, Hunter McWhirt. 9, Cody Freeman. 10, Kyle Thompson. 11, Garrett Bias. 12, Trent Griggs.
UP NEXT –
Friday at Outlaw Motorsports Park in Wainwright, Okla.
MEDIA LINKS –
Website: http://www.NOW600Racing.com
Twitter: https://twitter.com/NOW600Series
Facebook: https://www.facebook.com/NOW600series
NOW 600 SERIES –
The National Open Wheel 600 Series showcases premier Non-Wing, A-Class and Restrictor micro sprint racing throughout Oklahoma. For more information, including the schedule, points and rules, visit http://www.NOW600Racing.com.
INSIDE LINE PROMOTIONS –
Inside Line Promotions specializes in affordable public relations and media management for motor sports drivers, teams, sponsors, tracks, series, events, organizations and manufacturers. ILP Founder Shawn Miller leverages professional journalism with new media technologies and social networking to improve your exposure and the return on investment for your sponsors.
To meet the media relations needs of your program and to join Team ILP, contact Shawn at 541-510-3663 or InsideLinePromotions@gmail.com. For more information on Inside Line Promotions, visit http://www.InsideLinePromotions.com.
---
Article Credit: Inside Line Promotions
Submitted By: Shawn Miller
Back to News