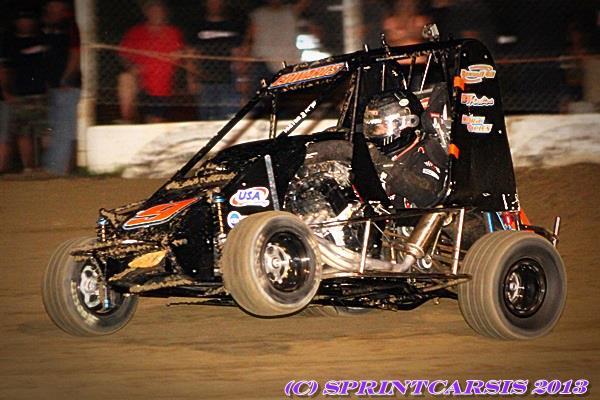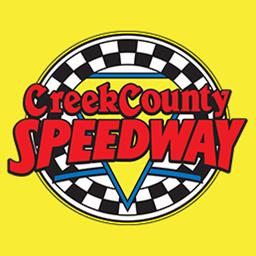 7/20/2013
Creek County Speedway
---
McDoulett Jr., and Schmidt take home "Open Wheel Mayhem" Wins.
SAPULPA, Okla. (July 19th, 2013) – Claremore's Earl McDoulett Jr., and Kellyville's Joey Schmidt took home "Open Wheel Mayhem" victories at the Creek County Speedway on Friday night.
Kellyville, Oklahoma's Joey Schmidt visited NOW600 victory lane last night in the NOW600 Restricted 'A' Feature topping a field of 8 competitors, leading wire-to-wire.
Schmidt was the high point driver of the night and earned the pole of the 20 lap feature event, alongside Tristan Oakes. Schmidt would race to lead and would be challenged by Oakes up till lap 16 as Oakes and Schmidt make contact ending Oakes' night.
Schmidt went on to win, Ryan Hunt finished in second, Josh Wakley third, Garrett Olson fourth, and Kelsey Gray rounds out the top 5.
Earl McDoulett Jr., took home the victory in the NOW600 Non-Wing stock division.
23 Non-Wing stock drivers checked in to do battle at the Creek County Speedway. Harlan Hulsey and Earl McDoulett Jr., started front row of the 20 lap affair. McDoulett jumped out to the race lead and would also lead wire-to-wire to pick up the victory. Hulsey challenged McDoulett beginning on lap 4, but couldn't get around. Hulsey came home second, Kyle Keeler third, Dean Drake, and Dylan Ward rounded out the top 5.
Official Race Results
Fri. July 19th, 2013
Creek County Speedway – Sapulpa, Okla.
NOW600 Restrictor
HEAT 1
1, Joey Schmidt. 2, Tristan Oakes. 3, Garrett Olson. 4, Kelsey Gray. 5, Ryan Hunt. 6, Josh Wakley. 7, Cody Freeman. 8, Hunter Kirkes.
A FEATURE
1, Joey Schmidt. 2, Ryan Hunt. 3, Josh Wakley. 4, Garrett Olson. 5, Kelsey Gray. 6, Cody Freeman. 7, Hunter Kirkes. 8, Tristan Oakes.
NOW600 Non-Wing
HEAT 1
1, Harlan Hulsey. 2, Layne Himebaugh. 3, Troy Minton. 4, Kyle Keeler. 5, Cody Carter. 6, Trent Griggs. 7, Garrett Olson. 8, Justin Patocka.
HEAT 2
1, Earl McDoulett Jr. 2, Jimmy Smith. 3, Charles McManus. 4, Joel Smith. 5, Tim Kent. 6, Greg Moore. 7, Ty Hulsey. 8, Dean Drake Jr..
HEAT 3
1, Shelby Byrd. 2, Dylan Ward. 3, David Baker. 4, Dennis Casillas. 5, Carl Lewis. 6, Rick Kirkes. 7, Charles Valenzuela.
A FEATURE
1, Earl McDoulett Jr. 2, Harlan Hulsey. 3, Kyle Keeler. 4, Dean Drake Jr.. 5, Dylan Ward. 6, Charles McManus. 7, David Baker. 8, Joel Smith. 9, Tim Kent. 10, Layne Himebaugh. 11, Greg Moore. 12, Carl Lewis. 13, Garrett Olson. 14, Justin Patocka. 15, Dennis Casillas. 16, Troy Minton. 17, Jimmy Smith. 18, Cody Carter. 19, Shelby Byrd. 20, Rick Kirkes. 21, Charles Valenzuela. 22, Ty Hulsey. 23, Trent Griggs.
For more information and a complete schedule for the National Open Wheel 600 Series log onto: www.now600series.com
Make sure to like us on Facebook: www.facebook.com/NOW600Series
And also follow us on Twitter: @NOW600Series
Oklahoma No Fender Network is the official advertising sponsor of the NOW600 Series find them on Facebook at www.facebook.com/OklahomaNoFenderNetwork
2013 marks the inaugural year for the National Open Wheel 600 Series sanctioning 600 micro sprint racing in the south.
Our Next Event will be: Wed. August 21st at Creek County Speedway featuring the NOW600 Restricted and Non-Wing stock divisions, plus the USAC Southwest Sprints.
---
Back to News