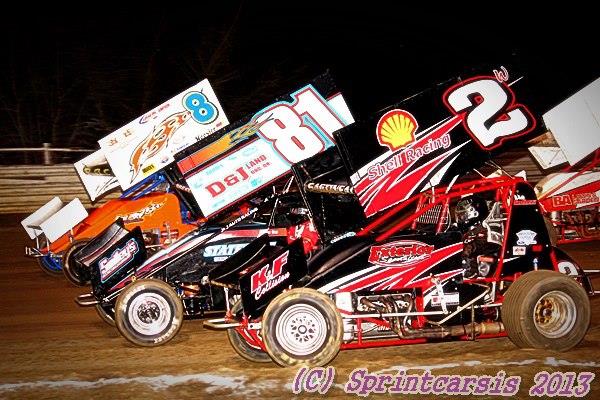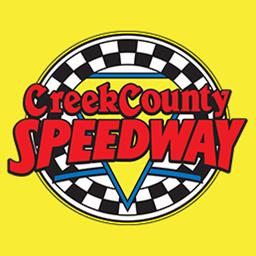 7/16/2013
Creek County Speedway
---
Open Wheel Mayhem set for Friday night…Race for the Championship continues on Saturday!
Terry Mattox – SAPULPA, Okla. (July 16th, 2013) – Another double header weekend is on tap this Friday and Saturday night at the Creek County Speedway.
First up on Friday night, the second edition of "Open Wheel Mayhem" will take place as the American Bank of Okla. ASCS Sooner Region Sprint Cars and the NOW600 Restricted and Non-Wing micros take to the quick quarter.
Sooner Region stars such as Mike Goodman, Matt Covington, Danny Wood, Jake Martens, Joe Bob Lee, Joe Wood Jr., Shane Pace, Kyle Clark, Alex Sewell, Kevin Cummings and more will be looking for the checkered flag at the end of the 25 lap feature event.
NOW600 Restricted and NOW600 Non-Wing divisions will also be in action. Earl McDoulett Jr., and Andrew Deal lead the Non-Wing division into this Friday night, and Joey Schmidt leads the NOW600 Restricted division coming into "Open Wheel Mayhem."
Gates open at 4:30, and Racing at 8:00.
General Admission: Adults: $20, Kids 10-14: $6, Children under 10: FREE.
Pitpasses: $30
Weekly Racing Series action continues Saturday with night #2 of the "Race for the Championship "featuring all 5 divisions: Champ Sprints, Modifieds, Dwarf Cars, Mini Stocks, and Factory Stocks.
Top 5:
MINI STOCKS:
Daniel Ray Denton, Dee Denton, Dearl Harrison, Michael Rodman, and Michael Stucks.
FACTORY STOCKS:
Josh Jefferies, Jimmy Owen, Bobby Wolfe, Toby Cooper, and Justin Green.
DWARF CARS:
Jeff Record, Kevin Brewer, David Cummins, Larry Pense, and Rick Cochran.
MODIFEDS:
Ho Dean, Brett Wilson, Dena Wilson, Shawn Rowell, and Anthony Neel.
CHAMP SPRINTS:
Brent Bates, Ricky York, Jackie York, Christian York, and Robby Sherrell.
Load up the kids, call your mother in law and bring them all out to "The Creek" this Saturday night for the fastest fun around!
Gates open at 5:30; Hotlaps at 7:00; and the green flag flies at 7:30!
Tickets just $10 for adults, kids 10-14 $6 and children under 10 are always FREE! Pit Pass $30.
Creek County Speedway is a fast quarter mile oval located outside Sapulpa, Oklahoma on historic Route 66. CCS has been bringing high octane excitement to race fans since 1986.
For more information on "The Creek" log onto www.creekcountyspeedway.co and also make sure you like us on Facebook at www.facebook.com/CreekCountySpeedway. And follow us on Twitter @CreekCoSpeedway.
Photo Credit: Marcia York Sanderson (Sprintcarsis)
---
Back to News